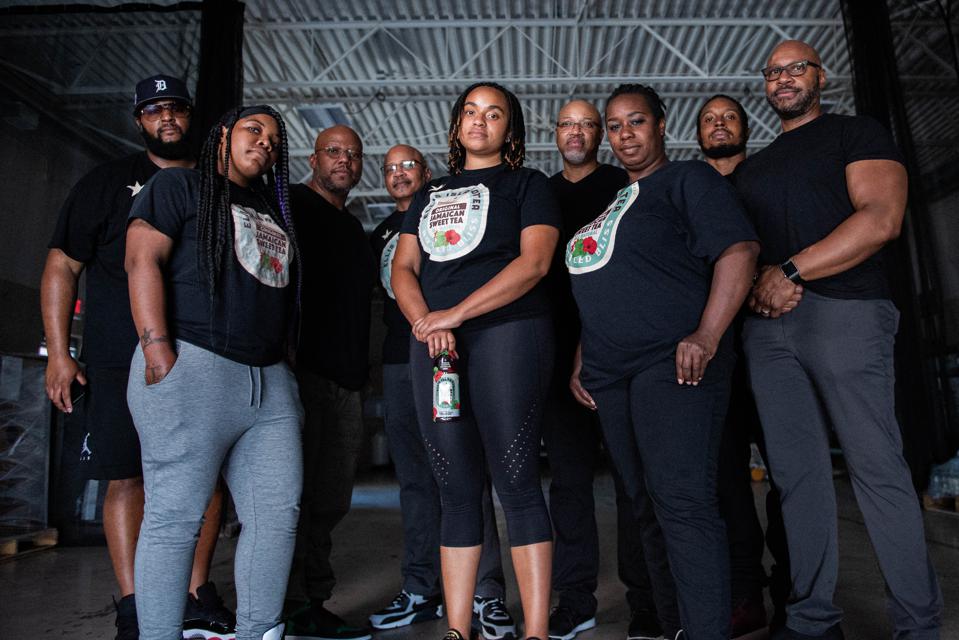 High-Growth Black Enterprise Seeks Venture Capital To Scale
back
Black women face significant challenges in raising venture capital. They represent 42% of net new women-owned businesses, according to the American Express 2019 State of Women-Owned Businesses.* That's three times their share of the female population (14%). Yet, they receive less than 0.5% of venture capital.**
Despite the hurdles, Nailah Ellis started and has grown the largest black-women-owned beverage manufacturer in the United States. Her Detroit-based company, Ellis Island Tea, has a 12-year track record of growth, but raising a seed round of financing has been a slough.
She's used to challenges. As a freshman at Howard University, Ellis decided to quit and become an entrepreneur. Her dream had always been to start a company after college and work on Wall Street to earn a lot of money. However, college was going to cost a bundle—more than $100,000. "I didn't want to start that far in the hole," she said. Ellis decided to go where her heart was—running her own business. "I left school and moved back into my mother's basement."
Her grandfather, Cyril Byron, a Jamaican immigrant, became the head chef on Marcus Garvey's Black Star Line, a shipping line, which was part of the Back-to-Africa movement. Byron founded Byron Caterers, one of the most successful Black-owned catering businesses in the Bronx, NY. He had a recipe for an herbal tea and passed it down to Ellis' grandfather, who passed it down to her father. "This recipe could be my ticket to entrepreneurship and I could carry on my family legacy at the same time," Ellis said.
She flew to New York to ask her father for the recipe. He told her to take a couple of lemons, a couple of limes, and some hibiscus tea bags. "The first time I made it, it was horrible," Ellis said. Over the next 365 days, she tweaked the recipe every day until she perfected it through trial and error.
"I had no experience in the industry," Ellis said. "I thought 'why don't I just sell the tea on the streets?'" She used the skills she developed in middle and high school when she sold candy, chips, and juice out of a duffle bag to classmates. Every night, she brewed a batch of tea, loaded up her cooler, and put it in her car's trunk. When she saw a group of people, she would get out of the car to sell tea.
Ellis' persistence led to her local Whole Foods, finally agreeing to stock her tea. The buyer told her what needed to be fixed before he would sell her product. A little over a year later, Ellis Island Tea was on its shelves. Once success was proven, more Whole Foods stores started selling her brew.
To be sold in stores, she needed to move out of her kitchen. She thought she'd use a co-packer, a company that would use her recipe to brew, bottle, and distribute her tea. But the companies she met with wanted to use concentrates and she wanted herbs to be steeped by hand. She decided to manufacture the tea herself and to do it in Detroit. Her first commercial kitchen was a residential drug-rehab center that was empty at night.
Fast forward to today. Ellis Island Tea is regionally available at Costco, Kroger, Sam's Club, and, more recently, Walmart. However, to scale up, Ellis needs capital. Since launching her company, this has been the most difficult challenge she has faced.
She became obsessed with the idea of having Kevin Hart—the comedian, actor, producer, and investor—on her cap table. "I was shooting for the moon," Ellis said. It turns out that one of her mentors is a good friend of Hart's bodyguard. She begged the bodyguard to get her a meeting. With no commitment to a meeting with Hart, she flew out to California last Christmas. "Everybody was like you are psycho."
Three days later, she was sitting across the table from Hart. Within 15 minutes, he was in. "He couldn't believe the tea had zero sugar and that it was sweetened with cold-pressed cane grass. He loves the health benefits and that the herbs are steeped by hand." He also likes Ellis's hustle, which reminded him of his hustle when trying to get gigs at small comedy clubs.
As with many beverage companies, Ellis Island Tea has experienced a spike in sales in the wake of the coronavirus pandemic. However, much greater growth has come as a result of the Black Lives Matter movement and a focus on buying Black. Influencers, like Beyoncé, are bringing attention to buying Black products. Ellis Island Tea has been featured on Beyoncé's 'Black Parade Route' business directory. Beyoncé has 15.7 million followers. "E-commerce sales increased 1,000%," said Ellis. Amazon reached out about selling the tea on its website, too.
While investors have expressed interest, they have been slow to sign on the dotted line.
How will you overcome the challenges your business faces?
Read more articles like this as soon as they are published on Forbes.