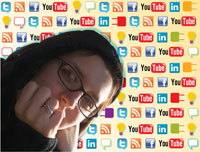 For Nonprofits in the Dark About Social Media, Here's the Light Switch
back
Nonprofits that don't use social media much or, by their own assessment, don't use it effectively had some problems in common, according to Ventureneer's recent survey.
While we can't break down all the barriers to effective use of social media we can help … a lot, I think. While the list of webinars that follow may seem self-serving, it isn't. It's a list of free resources – not come-ons but full classes – that might help you overcome some of the barriers you face in trying to develop a social media plan.
While a few organizations felt they just didn't need social media, most non-users mentioned three roadblocks:
The time it takes to train staff and maintain an effective social media presence.
Management is not convinced of the value/return on investment and lacks clear guidance/procedures for implementing social media programs
Lack of financial resources.
Trained staff is absolutely essential for social media to be successful. Nonprofits using social media effectively know the key is to take the time you need to do the job right. It's about becoming more effective, not just faster. Staff that understand social media well will know which medium to use, whether your effort is a one-time push to qualify for a corporate grant like the Pepsi Refresh challenge or an ongoing advocacy campaign. Some solutions
Don't make assumptions without some investigation. You may find people within your organization who are very adept at the technical aspects of social media. Rewrite their job description to include social media.
Bringing on a social-media savvy intern is another way to train staff. Don't leave the intern in charge. The message is yours and you must monitor it while taking advantage of the opportunity to learn social media.
Resources to learn social media are plentiful and, often, free. Start with these. You and your staff will learn more about social media and can then make informed decisions about your next steps.
Trained staff, including managers, will be able to write policies and procedures that ensure your social media presence reflects the values of your organization. Procedures can also automate tasks so they take less staff time.
If you have $69 to spend, we are offering a Vcourse on September 23: LinkedIn for Nonprofits: Putting Your Best Brand Forward.
Or check out our free webinars. No charge, not much time, and a lot of information to inspire and guide you. Remember, these are fully formed classes, not sales pitches for further commitments. Read about our upcoming webinar on September 21: 4 Steps to Effective Use of Social Media for Nonprofits.
Or our archived ones, such as:
While "live" webinars give you the opportunity to interact with the instructor and other students, archived webinars can still provide a wealth of useful information and resources.
Top level buy-in: For the most part, the people who have to buy into the idea of social media for marketing and fundraising are management. It may be that age is a problem, the can't-teach-an-old-dog-new-tricks scenario, but I'm not sure that's true. If social media are presented to anyone as a part of a well-thought out strategy, I think resistence will drop.
Adoption of social media is a journey for organizations as well as people. Start with something you can sell and manage, measure the impact, then enlarge the plan by adding another media to the mix. Again, webinars may help. Upper level management may want to consider:
It takes time and money to set up and maintain social media marketing, just as it does to maintain traditional marketing methods. (Remember when having a website was new-age? Now it's standard procedure, as is the time to maintain it.)
Social media is part of a total marketing/branding plan and the cost is also part of that overall plan. Several of the webinars above deal with this issue and show you how to get the right mix of media and how to avoid wasting time (and money). But you also might want to look at Tools to Keep Your Website Up to Date That Any Nonprofit Can Afford.
Get started! If you don't find what you want, let us know. This survey made us aware of some gaps that need filling.
What do you need to get started in social media? What are the roadblocks that keep you from expanding your social media involvement?