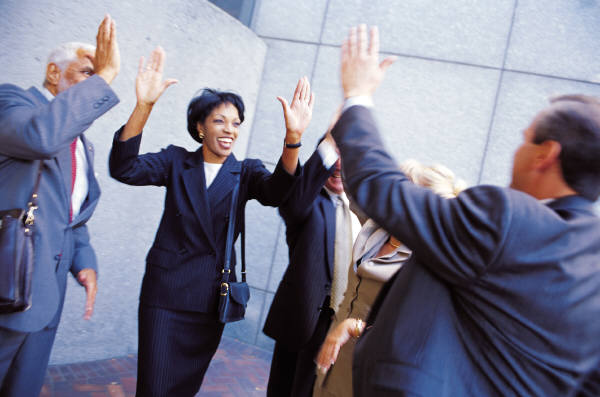 Women-led Businesses Bring Better Returns
back
Why are Warren Buffett and other men bullish on women?
Warren Buffett recognizes value when he sees it. His style of investing in high-quality, underpriced companies has made him one of the richest men in the world. Women are an under valued resource who are key to America's prosperity wrote Buffett in an essay in Fortune.
His view on women is supported by research, which documents the wisdom of investing in women-led companies.
Venture capital firms that invest in women-led companies out perform those that don't, according to research from the Small Business Administration's Office of Advocacy. Male dominated VC firms that rely on the good ole boys network for referrals may be doing themselves a disservice. When you get a referral from someone you know, you may scrutinize the company less. VCs that are less embedded, share the risk with other VCs, find higher performing companies, and invest more often in women-led companies.
Venture-backed companies that include more women on their executive management teams are more likely to succeed than companies with men-only executive suites, according to Women at the Wheel: Do Female Executives Drive Start-up Success, research conducted by Dow Jones. The report finds that companies with a greater percentage of women on the management team have a greater chance of success. Success is defined as going public, operating profitably, or being sold for more money than they've raised.
If women entrepreneurs in the U.S. started with the same funding as their male counterparts, they would add 6 million jobs to the economy within five years, according to Babson College. That's why Dell has a special initiative, the Dell Women's Entrepreneur Network, to accelerate opportunities for women entrepreneurs, said Steve Felice, President and Chief Commercial Officer at Dell.
When Adam Quinton was a managing director at Bank of America Merrill Lynch, he saw the benefit of diverse teams: Having women on the team drove better outcomes. He sees the lower level of funding for women-led, high-growth companies as a market failure. But, while other investors are ignoring this market, he has more opportunity to invest. That's why he's a member of the Global Advisory Board of Astia (which accelerates the funding and growth of women-led companies) and Managing Director at Golden Seeds, (an investment firm that invests in women entrepreneurs) as well being a Founding Astia Angel. He is on the Board of Thrive Metrics and an Advisor at NopSec, Swoop Talent and Cloudamize, all of which have women CEOs and founders. In addition Quinton is an investor in four other women led/founded businesses including Flixmaster and The Muse. He is also a mentor to Women Innovate Mobile accelerator program and other women-led companies.
Women add diversity in skill sets, another benefit according to John Harthorne, founder and CEO of MassChallenge, a Boston based accelerator. His accelerator helps novice entrepreneurs with advice, resources, and funding to bring their ideas to fruition. In general, men are better at asking for money, but women are better at building at motivating teams, he says.
What's standing in women's way?
"Networking helps entrepreneurs share best practices, build business opportunities, explore expansion, and access new resources — like capital and technology — that support business growth," said Felice. "Business is an inherently social practice and entrepreneurs rely on one another to play the roles of customer, partner, vendor, advisor, etc. at various stages of growth."
Women leading high potential companies need to expand their networks to more of these resources. "You can't buy this advice, but you can get it for free," said Quinton.
Experts say that men tend to network less frequently and in a transactional, direct manner, reaching out to the people they need when they need them – for advice, a connection, etc., according to Felice. Both Harthorne and Quinton agree that, by and large, men are quicker to ask for what they want and get it. Women are slower to ask, feeling they need to earn the ability to ask.
Women need to get past their inhibitions. They need to identify and engage in the networks that are critical to their businesses, according to the SBA report.
What's needed to tap this under-appreciated resource
The SBA report mentions the need for mentorship programs. Astia and Springboard Enterprises offer programs specifically aimed at helping women raise money. MassChallenge ensures that women are included in the accelerator initiative with special outreach efforts. Other accelerators, such as Cal-X Stars do the same.
Howard J. Leonhardt, founder of Cal-X Stars and The California Stock Xchange, is a serial entrepreneur who made a fortune on his medical inventions. He thinks that it's not just women who are excluded by the good ole boys network. As the son of a mechanic and a seamstress, he understands firsthand how it hard it to raise money when you're not one of the good ole boys. He now teaches the lessons he learned through his Cal-X Stars accelerator programs.
Leonhardt did an IPO on NASDAQ; it cost $4.8 million to raise $6.5 million. This was hugely costly and took a long time. He hopes The California Stock Xchange will be the third major stock exchange in the U.S. He wants to offer a cost-efficient stock exchange for small cap stocks to raise money. The stock exchange will also be geared toward socially responsible companies, many of which he hopes many will be women-led.
Leonhardt is also an advocate of crowdfunding as a way of raising money for start-up companies. I've written about its potential for women entrepreneurs.
Another point made by the SBA report is that we need to encourage investors to invest in women-led companies. That's all investors, not just women investors. There's not only an upside for your portfolio but for the American economy.
What about your portfolio? How will you add women-led companies to the mix?
Read Geri Stengel's stories on women entrepreneurs' success factors sooner by following her on Forbes.