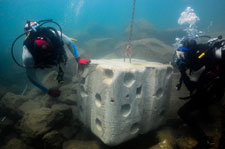 Women Entrepreneurs Help Tri-State Build Stronger Infrastructure
back
Sometimes chance encounters happen for a reason. I've recently met two women who, for very different reasons, will play a part in rebuilding the Tri-State area after the devastation of Sandy.
I've written about one of them, Sandra Wilkin, of Bradford Companies, who is making construction more efficient and less costly by using technology to coordinate projects. She's also making sure that small businesses — especially minority- and women-owned enterprises — have access to that technology so they can be part of the recovery and recover themselves. All good for the reconstruction and economic recovery.
But, we also need to build better.
As Governor Cuomo said, "…the challenge, the effort for us is not just to build back, but to build back better than before and we're going to do that … Extreme weather is a reality. It is a reality that we are vulnerable. And if we're going to do our job as elected officials, we're going to need to think about how to redesign, or as we go forward, make the modifications necessary so we don't incur this type of damage."
He's right on and another woman entrepreneur is already working on that, Shimrit Perkol-Finkel of ECOncrete, has reformulated a product used to build marine infrastructures so that nature itself makes the structures stronger while reducing wave action along the coast.
Perkol-Finkel, a marine biologist, modified the composition, texture, and design of concrete so that it fosters growth of native flora and fauna while increasing the operational life span and stability of the concrete structure. Marine plants and animals — oysters, barnacles and coral — deposit calcitic skeletons that add weight, stability, and longevity to the infrastructure.
Here's a quick lesson in marine biology. Piers, jetties and seawalls with a protective layer of marine growth absorb wave action better. That's why oyster reefs are being restored: They act as natural wave breakers. Before pollution and over harvesting, oyster reefs protected coastlines in estuaries by stabilizing sediments and softening wave impacts near shorelines. Oyster beds close to shore clarified the water, which allowed marsh grasses to grow. The extensive root structure of the grass held the shores together.
Perkol-Finkel's concrete uses natural processes to protect us from natural disasters. I call that building better.
Storms like Sandy are going to happen more frequently, impacting not just the Tri-State area, but all coastal communities. We need all the innovations that entrepreneurs can create. Wilken and Perkol-Finkel are setting the pace. Who else is building better?