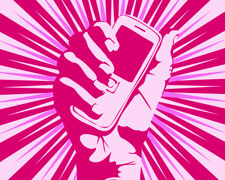 Woman Entrepreneur Builds Her Business by Leading Tech Revolution in Construction
back
New York City's construction industry is getting a makeover. Instead of cosmetics, a haircut and new clothes, its using technology to cut costs, save time and reduce risks.
No surprise that a woman — Sandra Wilkin, Bradford Companies — known for her project management, communication and collaboration skills is one of the driving forces behind Intelligent Jobsite Alliance's inaugural conference Construction's Technology Revolution.
Bradford Construction provides project and budget management for large public construction projects.The company also develops mentorship programs to provide minority- and women-owned enterprises (MWBEs) with training and project oversight. In other words, Wilkin is a woman who knows her business.
She just added a new division, Bradford Technologies, focused on developing and implementing some of the latest innovations in technology, with the express purpose of providing training in and assistance with the use of these technologies to small businesses, particularly MWBEs.
Construction involves many players. A change by one can impact the work of another. Technology allows everyone to see a virtual representation of a project before and during construction, to integrate changes, analyze the impact of the change, and communicate changes to everyone to better coordinate the building of a project. This reduces uncertainty and delays while improving safety.
Such technology makes participation by small businesses more efficient and more easily integrated into the project. It benefits both the contractors and their clients, and is certainly a step forward for the construction industry … if it is used.
Although Wilkin's has brought technology and construction together in her own company, the sectors are mostly siloed. Wilkin and her team have attended construction conferences and they have attended technology conferences, but never the twain did meet … until Wilkin stepped up. She decided that the two sectors would both benefit from cross-pollination.
Wilkin wasn't the only one who realized this. Sam Stathis of Stathis Enterprises and Theometrics wanted to make NYC the technology capital of the world. He realized this could only happen if players from the construction and technology industries came together. Companies such as ASITE, Autodesk, Earthcam, NRI, and Verizon Wireless got on board. The City and the State got on board, too, and the conversation has begun.
There's a big lesson to be learned from Wilkin. She is advancing the industry while advancing her own business. She is being selfless — a character trait many women possess — but she is also being selfish — advancing her own agenda, which more women need to do.
Wilkins has a lofty goal for her company, that is, to build small business capacity particularly MWBEs. "Technology levels the playing field for small businesses, including MWBEs," said Wilkin. She emphasized that message at the conference.
She balances her own goals with the goals of the industry. Her use of technology in her business differentiates her from her competitors, but she'd be delighted if her competitors used technology as well. It would improve the overall industry.
Stepping into the limelight to convene the industry around an important issue is a great way to gain visibility and thought leadership for your company without making it feel like you're tooting your own horn. How would you do this for your company and industry?