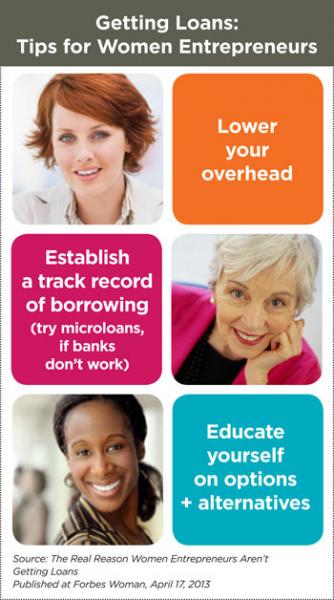 Why Women Entrepreneurs Aren't Getting Loans and What They Can Do About It
back
There's no doubt about it: women business owners face greater funding challenges than men. A lesser-known fact is that those challenges may be linked to the industries that female business owners are choosing, according to new findings by Biz2Credit, an online credit marketplace.
When I first saw Biz2Credit's analysis of 14,000 of its recent applications, I was taken aback by one its findings: women business owners were 15% to 20% less likely to receive approval on a small business loan application.
Women-owned companies, which Biz2Credit defines as a business of which at least 25% is owned by a woman, represent only 29% of Biz2Credit's applicant pool. Compared to their male counterparts, the female business owners had:
15% lower average annual revenue

21% higher operating expenses resulting in slimmer operating margins

lower credit scores by 40 points
When taken at face value, it looks as if the women business owners were less qualified than the men. But a closer look at the numbers tells a very different story.
It turns out that the lower percentages has less to do with the women's performance, and more do with their choice of industry. Of the women-owned companies applying for Biz2Credit loans, 22% – the highest concentration in any one industry – are retail businesses. Women are 32% more likely to be in retail than men.
What's the significance of retail on the numbers?
Regardless of the owner's gender, retailers have lower revenues, higher expenses, and lower profit margins than businesses in other industries, according to Rohit Arora, CEO of Biz2Credit. Banks are less likely to approve their loans and credit lines. As a result, retailers turn to alternative financing options such as credit card receivables, which are very expensive. Worse yet, retailers may turn to funding business expenses on their personal credit cards, which can have an adverse impact on the owner's credit score.
So what's a girl to do?
Start out by borrowing small amounts of money for your businesses to establish a track record, said Arora. If you can't get a loan from your bank, try getting a microloan from an organization such as Accion. It's more expensive than a bank, but cheaper than alternative financing options, such as taking on credit-card debt. Once you've established a track record, you can re-apply to a bank.
You'd also be wise to figure out ways to lower your overhead, according to Arora. This might include negotiating more aggressively with vendors and suppliers on price, something many women are uncomfortable doing.
Getting a loan for a women business owner doesn't have to be a catch-22. Making educated choices about funding your business improves your chances of success.