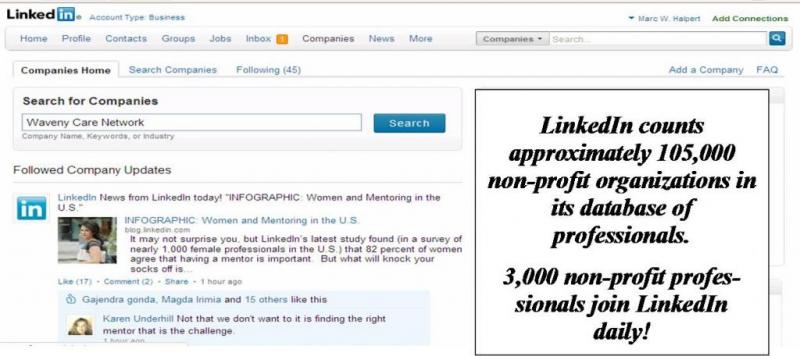 Why LinkedIn Company Pages Matter to Nonprofits Part 2 of 5-part series
back
By Marc W. Halpert and Colleen McKenna
Editor's note: "Company Pages" may sound like something only for-profit businesses should care about. But those pages provide valuable visibility to nonprofits as well. On Wednesdays, we'll be running a five-part guest series on how nonprofits can reap significant benefits from LinkedIn's Company Pages.
A complete LinkedIn profile is essential if you are to reap the benefits of LinkedIn's connections and every individual profile adds value to the company profile.
On average, people take about 10 seconds to decide if they'll keep reading a web page …if they haven't already moved on. An anemic nonprofit profile, filled with anemic individual profiles makes for an extra-anemic looking organization. Visitors won't be compelled to move on to your website or to view your nonprofit as a legitimate organization.
Like most people, we follow companies and nonprofits that interest us and have a compelling cause or that function as a useful resource for us. We often link to personal profiles from the organization's page, and we're usually intrigued by the authentic and valuable insights they post.
That being said, personal profiles connected to your organization must be up-to-date and accurate. They are part of the overall branding of the organization, and therefore must present the right message. Think about the following and how highlight them through your LinkedIn nonprofit page.
Keep profiles dynamic, not static, by continually updating the profile (ex. if someone leaves the organization, update the profile and close out the position; post recent and relevant news, etc.)
Post a status update from your Company Page. As you build out your Company Page, you're able to publish content that you're branding to a new level on LinkedIn. Any LinkedIn member can comment on, like, or share a Company Status Update. You can post images, video and URLs…and you have up to 500 characters (including spaces).
Here's a walk-through of the process:
Go to the "Overview" tab click on "admin tools;" go to edit. In "edit," select "Designated users only" and type in the people you want to have administrative rights. Once you have added them, click "Publish" upper right corner.
Use repetitive keyword phrases throughout the profile without being redundant. These should explicitly describe your nonprofit, classify employee positions, place emphasis on your cause, etc. The more keyword phrases used, the more your Company Page will come up in searches by other LinkedIn members. You'll be more easily found.
Ask for recommendations. Recommendations from corporate sponsors and organizations keep your profile relevant and also show that you're reaching out and networking.
Follow other nonprofits and organizations that you admire or do business with to associate your funding efforts. [There is a "share" button next to "follow."]
Ask clients, donors, volunteers, members, and other affiliates to follow your nonprofit on LinkedIn.
Add the URL to link to your website.
Forward blog posts and tweets to your profile page. This shows how involved you are in social media. [Go to admin on your profile to add this option.]
Add video to your profile and to the pages on your company profile that discuss specific products or services. Here is a great tutorial on how to add video.
Visit Waveny Care Network, in New Canaan, CT, whose company profile pages we have been spotlighting, to see how they represent their nonprofit through their own resources. You'll see how, when it's all pulled together, your profile will speak volumes about the type of organization you are, even if you are a start-up nonprofit.
Next week, we'll show you have to give your nonprofit a personality of its own.
For more information, check out Part 1 of this series.
Marc W. Halpert has started, and continues to operate three companies in the past 10 years; the most recent is called and Connect2Collaborate, in which he uses his skills in networking and his LinkedIn evangelism to train and coach others. He teaches LinkedIn to groups as well as coaches individuals, is a frequent speaker at national, regional, and local conferences, and has authored numerous articles.
Colleen McKenna, Principal, and Intero Advisory teaches people and organizations how to build their creative and competitive professional brand to ensure greater productivity and success.
We do this by creating a plan and implementing the appropriate tools. LinkedIn, the professional social network, is where we begin.