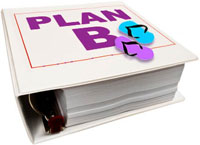 When Bad Things Happen to Good Businesses
back
You can't plan for everything.
Like BP not putting in the right kind of plug on its oil well.
Kyle Berner saw a need and built a company that took into account sustainability, market, community benefit, biodegradability, fair trade, and ethics.
I thought his ethics, his vision, and his planning were exemplary.
Since 2007, Feelgoodz has been growing, with a planned delivery in May 2010 of 10,000 pairs of flip-flops to 75 Whole Food Markets for summer sale. That's a big deal, in all senses of the phrase.
Then the oil spill happened, just as the container carrying the Whole Foods order was on its way to New Orleans. Delivery was delayed and now Berner has 10,000 seasonal items but the season is over.
In true entrepreneurial spirit, he isn't giving up. He is selling the flip-flops online for a discount. Just enter CHANGE at checkout for $5 off and $5 flat rate shipping. No limit on the number of pairs you can order.
Through social media – Twitter, primarily – and an article in change.org, Berner is making headway on selling those flip-flops so he can pay back the $50,000 loan he owes on the ill-fated shipment and keep alive his vision of doing good while doing well.
Who says flip-flops are just for summer? They work just fine as slippers and around the gym or yoga studio. But if you really think "flip-flops equal beach," put them away for next year. They're on sale, so don't be a stickler about the season.
We've got a couple of lessons here:
The best laid plans of mice and men often go awry.
When Plan A fails, have a Plan B at hand.
Social media are powerful marketing tools.
We can all help out by doing what we can (in this case, check your supply of flip-flops).