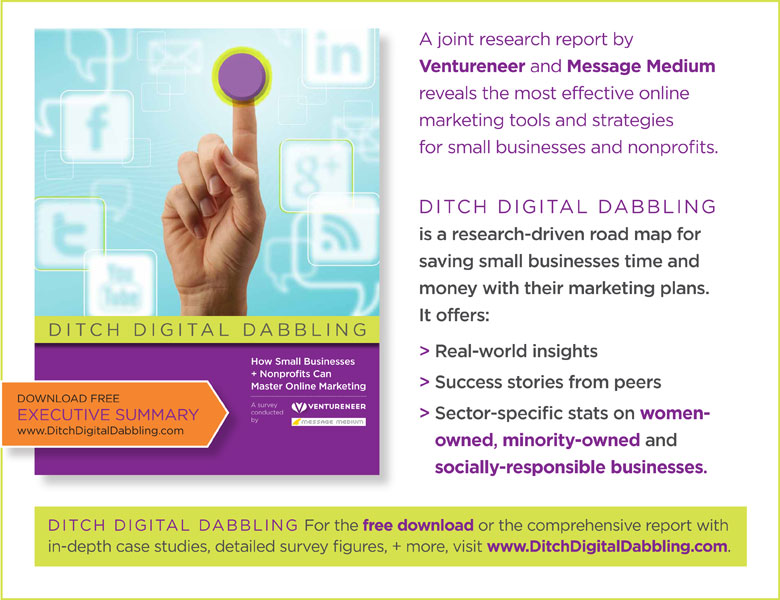 What Everybody Needs to Know About Online Marketing
back
What you don't know can hurt you, especially if what you don't know leaves your business back in the 20th century while your customers are well on their way into the 21st.
In that case, you are losing opportunities to grow, to reduce costs, and to build customer loyalty.
Too many small businesses and nonprofits (which really are small businesses) view online marketing as a kind of black hole into which you sink and time and money, out of which comes … not much. Their directors, marketing staff, and communication staff see such things as social media and Search Engine Optimization as costly and unproven. That view is reinforced by their lack of success or by a general reluctance to venture into the unknown.
At least that's what Ventureneer and Message Medium found in our recent survey of online marketing practices among both nonprofits and small businesses.
The perception that online marketing is too costly and doesn't give a good return on investment keeps people from taking a deep dive into these now proven marketing tactics. The results: business owners are missing out on growth opportunities when they most need them.
Let me give you a couple of quick, yet representative, examples:
LapTopMD: Business here has doubled every quarter for the last year. What changed? A staff member was hired who had expertise in Search Engine Optimization and Google AdWords. In the past, the owner had tried to use these tools himself, but failed. But with the insight of the new staffer, the computer and mobile-phone repair service is booming, despite the sluggish economy. The company attributes its growth directly to the online marketing efforts.
The National Association of Black Accountants needed a board member with particular skills: an attorney with experience in revamping by-laws and revitalizing a nonprofit board. A LinkedIn search found two, with ready-made references through LinkedIn connections in common with the board chair. After a face-to-face meeting and board approval, one of the candidates joined the board.
Fumoto Qwik Valv, had a new invention, a gizmo that helps auto buffs change oil more quickly and cleanly. Guided by Lauren Fairbanks, partner in Stunt & Gimmicks marketing company, Qwik Valves were sent to 50 online forum moderators and 33 regular posters for honest feedback. Within a few months, you could check out any of the many auto forums and find people talking about Qwik Valve. The next step is to become a preferred product on the forums, which will mean continuous online sales as well as a really nice market with which to earn a place on the shelves of brick-and-mortar stores.
Now that's return on investment!
Of course, there is no free lunch. Online marketing costs time and money. Oh, but so does every other marketing technique. And that's what we are talking about: Marketing, not technology, marketing. Invest in the future of your business or organization. Get your message out to consumers and donors, who now look online for products, services or causes to support.
To be fair, the lack of confidence business owners have in online marketing isn't entirely their fault. The providers of online marketing tools, products, and services haven't done a great job of teaching business owners how to use these tools. Information is out there but often it is based on the assumption that you've been using social media for ages or that you understand techie jargon. Not helpful to a business person focused on inventory, sales, and staff management.
From the survey results, I think the key is getting information out there in basic English and in a variety of formats — written, interactive, audio — so everyone can learn in their own way. Take away the funky terms like backlinks for SEO and what you have left is … marketing. Let's get rid of the fear-factor and replace it with a strong dose of understandable, usable tips and advice.
My recommendations for leaders of businesses and nonprofits:
Get out and take some classes at whatever level is right for you. Yes, you may be a beginner even if you are the CEO.
Find online resources to keep you up to date.
Consult with experts, whether you hire one or meet them online in a discussion group or in-person at a conference.
These investments will pay off in ways that you never imagined.
The 2011 online marketing survey, Ditch Digital Dabbling: How Small Businesses + Nonprofits Can Master Online Marketing, gathered extensive data and benchmarks about how small businesses and nonprofits use online marketing and whether they are seeing results. For highlights, visit HIGHLIGHTS.