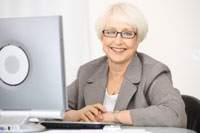 What Every Nonprofit Ought to Know About Using Baby Boomer Volunteers
back
Don't miss out: Insights about how to build capacity by building your volunteer program.
All that talent, all that energy, all those ideas … yet many nonprofits shy away from Baby Boomer volunteers. It's a huge resource being wasted.
What's the problem? It's my guess that most volunteer programs flounder on the reefs of poor planning. As one nonprofit "employer" of volunteers puts it, you have to:
Very clearly define what goals you want the volunteers to accomplish. These may well be goals you couldn't address without volunteers. Mission focus always is foremost but do not necessarily focus on what you are able to do now.
Get the buy-in ofeveryone– administrators, clerical staff, social workers, everyone– who will be working with the volunteers, buy-in that is excited about being able to better serve clients rather than buy-in that says "Well, if you insist, I'll try to work with these geezers."
Write a job description for each volunteer position. Include the mundane as well as the high-level (You will fix your own paper jams; you will write and layout the internal newsletter with input from the following departments … .)
When interviewing, look for people who want to help, not just specific skill sets. People with a lot of experience can learn new things. People with a bad attitude will create chaos.
Develop and use a training plan that shows both the job to be done and the way nonprofits do it. Spell out limitations imposed by contracts and laws.
Have reasonable expectations of volunteers as intelligent members of the team but don't expect undying devotion, such as calling them on weekends and in the evening.
Have refresher courses and meetings to discuss problems encountered, new ideas, changes to procedures, etc. Face-to-face meetings, not just email updates.
Have a point person whose job it is to answer questions and guide volunteers, especially new ones.
Do NOT assume a common language. Corporate-speak does not match nonprofit jargon. Be extremely explicit and use plain English.
Integrate the volunteers into the team as equal members of the team. They aren't paid but they are valuable.
Keep in touch! Not just newsletters and rah-rah attaboys (although such acknowledgement of contribution is important). Initiate and respond to calls or emails. If the volunteer become burdensome, either re-evaluate volunteers' training or re-evaluate the volunteer.
Treat volunteers like people. Drop by their work station once in awhile, ask what's lighting up their lives these days.
Use social media. Set up LinkedIn groups or Facebook pages in which volunteers can ask questions and make suggestions. Just be sure youlisten.
If a volunteer has an idea for a new way to do something or a new service, listen. His/her fresh perspective may give you a fantastic new way to do something,.
When skills are developed and the job understood let 'em have at it.
And what does that all add up to? Time. Time and more time. Planning and more planning. But it's an upfront cost, not unlike the cost of any new program.
However, the burden does not rest entirely on the agency. Volunteers have a bad rap in some quarters as unreliable, unmotivated and, sometimes, overbearing. Volunteers need to follow a few rules as well:
Check your ego at the door. Volunteering is not about climbing a career ladder, one-upping the management with your superior management skills or revising the way the whole process works (unless that's what you've been brought on board to do.)
Be a team player. This is about mission and ways to advance mission. If that means you help set up chairs for a meeting, set up the chairs.
Go to the trainings and pay attention.
Follow the rules. Your financial planning skills may be able to greatly help a client but if your help may raise issues of liability. Find a way to help within the boundaries.
Do not compete with the staff. Collaborate with them. You are there to enhance, not take over, the operation.
If you are not motivated by the satisfaction of doing a good job or contributing to social good, don't volunteer.
Regard this as a job. Give it the same priority on your calendar as paid work. If you say you will do something or be somewhere, follow through.
Be willing to develop new skills. You may have controlled millions. Can you interact well and respectfully with a low-income person with compassion and understanding?
What does this add up to? A challenge, which is what you wanted in the first place.
Maybe the best place to start is to bring on some volunteers to develop a volunteer program. That, too, is possible. NYC Service has a program to do just that. Also check out software that can help you.
Do you have any tips for integrating volunteers into a nonprofit agency? Any cautions? Do Baby Boomers have special assets/liabilities as volunteers? How do you deal with those?