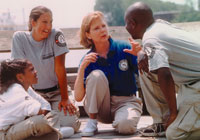 What Donors, Grant-Writers Can Learn From Competition Reviewers
back
While being asked to judge anything implies some level of expertise, it's a learning experience for the judge as well. For me, serving as an expert reviewer reminded me what to look for in a grantmaker and how to write a grant proposal.
Why is this important? The first because as supporters of nonprofits, we want to be sure that the foundation we use to funnel our money to a good cause is an effective agent. The second is important because, as a nonprofit, you want your grant to win.
I was an expert reviewer for the inaugural Social Innovation Fund (SIF) grant competition. The SIF is a new, competitive grant program from the Corporation of National and Community Service, which is best known for its Senior Corps, AmeriCorps, and Learn and Serve America programs.
The program will award up to $50 million to existing grantmaking institutions who then have two responsibilities: match the cash and select innovative nonprofit community organizations in which to invest. The end goal is to leverage federal funding with private funding for projects in low-income communities. Obviously, some organizations were evaluated better than others, but I was impressed by their overall capability to evaluate and provide fiscal oversight. As a taxpayer and as a donor, I'm glad to see a rigorous process for both.
I evaluated seven of the 69 applicants, all of them clearly focused on the target service areas: economic opportunity, youth development, and health.
These intermediate grantmaking organizations were assessed using the same standards an investor would use to assess a business. We looked for:
A strong track record in selecting, monitoring, and supporting its grantees,
The capacity to conduct a competitive selection process to choose the nonprofits that get the money,
Expertise in one or more of the priority areas,
Deep and broad relationships with stakeholders in the priority areas or in a geographic area.
Doesn't that sound just like what you'd want to know about a business: Track record, capacity to sort good strategies from bad, expertise, and strong relationships with stakeholders (customers, suppliers, donors, community groups)? Of course it does.
Oh, yeah, the framework for providing or sourcing programs had to be compelling and transformative.
For reviewers, the process was intense: 50 hours of work in the course of three weeks. Grant-writers, take heed: Don't make reviewers work to get your message; they're already working hard. Here are my suggestions:
Make your proposal easy for reviewers to read. That means choose an easy-to-read font, don't cram information on the page, etc.
Write in plain English; eliminate jargon and long-windedness.
Don't use more than three acronyms in the document and make sure to use the full name to which the acronym refers at least once.
Follow the suggested format. Include all sections the RFP suggests.
Make sure the document flows logically.
Check spelling and grammar. You want to look professional and qualified to do the job.
Not a good writer? Pay for an editor. You don't need to be Shakespeare, but you do need to make your points clearly.
Clarity, brevity, accuracy: Master those concepts and your project will stand out in any competition.
I have my fingers crossed that the proposal I liked will win. I'll certainly keep you posted.
What mistakes have you seen – or made – in grant-writing? Any words of advice for those about to respond to an RFP? Have you reviewed applications that stood out? What caught your eye?