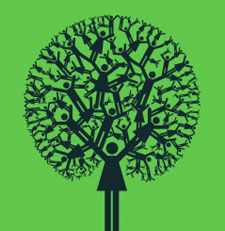 Want to Grow Your Business? Team
back
Maybe you don't think your business is the right kind or big enough to grow through government contracting. Think again.
The federal government needs many things, from tanks to kitty litter. So do state and local governments, many of whom provide set-asides and extra help to small businesses.
And don't forget corporations. If you are, say, an event planner, join forces with a catering firm so you have more to offer and more control over the project.
Joining forces with another business expands your capabilities and resources while you learn the ropes and build your reputation as a reliable contractor who delivers.
In federal contracting, the benefits of working together are enormous, according to American Express OPEN's report Subcontracting and Teaming. About ? of the small businesses that worked together break through the $1 million in contract revenue. That compares quite favorably to the 5% of small businesses overall who have achieved that level of revenue.
So what is subcontracting and teaming? When a company goes after a bid, it may not have all the capabilities it needs in-house, say call-center services. So it makes the bid and then brings a call-center business on board.
Teaming begins a little earlier in the game. A business that wants to go after contracts that include services it doesn't provide will agree to work with a business that does have those capabilities. Then they start looking for the bigger contracts they can now bid on together.
The above apply to non-construction contracts. Construction is a whole other world; we'll discuss that another time.
In non-construction contracting, collaboration in any form has many advantages:
By working with another company, especially a more experienced one as a subcontractor, you can learn how to work with government agencies or big corporations without being responsible for all the details.
Your reputation and contacts are expanded when you sub for a well-known and respected prime contractor.
With a teammate, your market is expanded because your combined capabilities are greater.
Your capabilities are expanded without actually hiring new staff or buying new equipment.
Get the details from the Small Business Administration, which has general business information, contracting information, and counseling at local offices as well as an Office of Women's Business Ownership.
Or the Procurement Technical Assistance Program, which has training events at offices around the country to help with federal contracting.
The Victory in Procurement Program offered by American Express OPEN offers seminars, lots of online information, and in-person networking opportunities.
States — particularly California, Texas, Florida, and Virginia — are reaching out to small businesses with financing, training, relocation, and other services as are cities, such as Detroit and New York.
New York City's Compete to Win program for women- and minority-owned businesses has free seminars on teaming, among many other resources. Don't dismiss local contracting. In fiscal 2011, New York City awarded $563 million to minority- and women-owned businesses.
The less you know, the longer it takes to get that first contract so start learning. Use these resources. You'll be giving your business the break it needs to surge ahead.