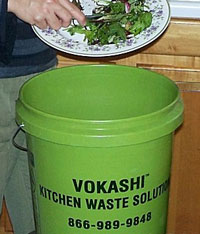 Vokashi: Fermenting Food Waste, Eliminating Garbage
back
Vandra Thorburn went into business for herself later in life – at 62 – motivated by both a cause and being laid off from her job. Necessity is the mother of invention!
The cause was using food waste in a productive, sustainable way. Aware that million of tons of food waste go into landfills every year at considerable cost to taxpayers, she had been among the Brooklynites who separated food waste and took it each week to be composted. "I lived with the drama of fruit flies and smells," she said.
Although about 500 people were dropping off food waste at a Farmers Market, not many wanted to truck the resulting heap around to composting centers. Thorburn saw the need for a new service: picking up and using food waste.
The Plan
In April 2009, she found a Japanese method of fermenting food waste – pickling it – that allows all food waste including meat and dairy that composting can't handle, to be kept out of landfills and to be used to revitalize soil. So Vokashi came to be.
Thorburn is a long-time activist, supporter of nonprofits, and organizer. "I have entrepreneurial hussle," she said. "I'm not afraid of starting stuff and getting ideas rolled out."
With the help of St. Nick's Alliance and the Brooklyn Public Library's PowerUp program, she developed a business plan. Both organizations provide classes and coaching for would-be entrepreneurs, which she found very useful. In the BPL's PowerUp! business plan competition, she placed second, earning a $5,000 seed grant to add to her self-financing.
Her business plan includes charging $40 per month for both the bran that starts the fermentation process and monthly pick-up of a 5-gallon bucket of fermented food waste. If more than one apartment in a building uses Vokashi, the price per bucket drops to $25 a month, the equivalent, Thorburn said, of a month's delivery charges from Fresh Direct.
That kind of puts things in perspective, doesn't it?
Not in the Plan
A little over a year later, she has come up against the unplanned-for, the real-world of doing business. She has problems and some solutions:
People, especially those in the composting and community garden movements, don't trust new technology. There is resistance to using or funding something that doesn't involve turning a compost heap or worms. To counter this, she takes the fermented food waste to Brooklyn College for analysis. She is developing her own database to prove that fermentation really works.
People don't want to pay to get rid of food waste. Most of those who actively separate food waste are accustomed to dropping it off at a composting center. "Fermenting just makes it easier for those who don't want to be walking about the city with a bag of rotting food," Thorburn said. She needs to market the idea to the audience that wants the option.
Finding land in which to bury the fermented waste has proved more difficult than expected. For every 40 buckets, she needs only 100 feet of trench, which can be re-used every 6 weeks. But the plot of land she had when she wrote her business plan is gone. Neighbors feared a garbage dump with flies and odor; she was unable to convince them that fermentation is pest-free and odorless.
Tight money, from funding sources and consumers, has slowed growth. The middle class doesn't have the discretionary income to support projects such as hers right now nor do governments and foundations.
A year and a bit into her enterprise, Thorburn has 20 customers; her break-even point with 1/2 salary for herself, is 100 customers. Although she scrimps on paying herself, she is adamant that staff should be paid a living wage.
The Good News
Among her customers are six at a building complex with a public garden in which she has been allowed to trench. Thorburn is hoping to increase the number of customers in these buildings where she has access to the land she needs. She also has a demonstration project in a private garden that may help overcome the resistance to the process among community gardeners.
Plan B and C and ...
The hallmark of any entrepreneur is flexibility. Thorburn is absolutely certain that fermentation has a role in reducing landfills and improving soil so, while still working to increase her pick-up service, she is pursuing alternative business models.
She is looking for government buy-in on two levels, for whole cities and for housing projects. To that end, she has applied for grants from the EPA and the National Science Foundation.
Outside the US, the fermentation method is used citywide. In Bogata, 11,000 households participate which provides the scale needed to use the fermented waste as animal feed as well as fertilizer.
She also would like to go into housing projects as a technical advisor, putting together a team of residents – perhaps unemployed young people – who would learn the technique, go door to door educating residents about the process and about good eating, collect the food waste, and bury it. Many of New York City's projects have community gardens in which the waste could be trenched.
And, being at her core an activist, she foresees that community gardens throughout the city would eventually accept fermentation as an equal with composting and vermiculture. Those dropping off waste to such centers would not be her customers but they would be keeping food waste out of landfills. For this social entrepreneur, that OK; it's the planet that matters most.
Photo: © Vokashi