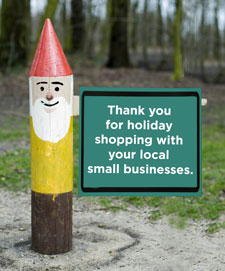 The Grinch Really Did Try to Steal Christmas This Year!
back
Wow! The Grinch really did try to steal Christmas this year … from small businesses at least … but in life as in fiction, he failed.
The real-life Grinch's name is "Amazon.com." The behemoth tried to steal Christmas sales from small brick-and-mortar stores, according to an article in The New York Times by giving a 5% discount to those who went into the stores, used a special app to compare prices, then bought online. It wasn't just a price-comparison app, which have been around for a long time. It was a reward program for not shopping at a local store that pays local taxes and employs local people.
As one bookstore owner posted on her blog, "They ask you to take advantage of my knowledge & my education (which I'm still paying for) and treat the space I rent, the heat & light I pay for, the insurance policies I need to be here, the sales tax I gather for the state, the gathering place I offer, the books and book culture I believe in so much in that I've wagered everything on it: they want you to think of it as a showroom for goods you can just get more cheaply through them."
Happily, like the fictional residents of Whoville, small businesses had good will and holiday spirit as well as the support of non-Amazonian big businesses, local governments, and business associations nationwide.
Small Business Saturday, a promotion on November 26 by American Express, Facebook, and others gave marketing materials to small businesses as well as incentives to shoppers who supported those local businesses.
The promotion prompted "an estimated 103 million Americans to shop at independently owned small businesses, up from a pre-Thanksgiving forecast of 89 million," according to a statement from American Express. "Small business purchase transactions on American Express Cards at these small merchants were up 23% over 2010."
"It was the busiest 'AFTER THANKSGIVING' Saturday that I have had in 9 years of doing business!!!" said Pam Dunne, owner of Unique-Teak, in an email that illustrated her enthusiasm. "People actually told me that they had made a list of all the 'small businesses' that they had NEVER been to and made it a mission to shop with all of us … this boost was most appreciated and for me "much needed" as sales were way down in 2011!!!"
Her enthusiasm was echoed by Julie Hubbard, owner of Julie's Corner Store, who said that she had many people say they came to buy because it was small business Saturday. Normally, her busiest day is her holiday preview two weeks before Thanksgiving but Small Business Saturday beat that this year.
She and Dunne benefited by the community spirit the promotion generated, from local city government to local Chambers of Commerce who came together around the promotion.
Not everyone fared so well. Tribeca Treats owner Rachel Thebault credits Small Business Saturday's visibility and promotions with continuing good holiday sales despite bad luck for her store on the actual day of the event: Her internet connection went down and she could not process credit cards. People did come in, however, just because of the Small Business Saturday promotions.
So Amazon, let's hope your heart grows and you understand the real meaning of both the holidays and good business: We can all grow together.
Did Small Business Saturday help your business this year?
If you liked this article, you may also like:
Small Business Support Isn't Just One Week Each Year
Small Businesses: A Cause Large Businesses Should Take Up