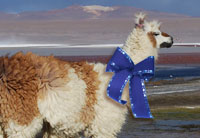 The Best Gifts Don't Have Ribbons and Bows: Another Take on Holidays
back
Oh, dear! For the well-organized, it's time to think about holiday giving and getting. What does my sister want? And that colleague at work? Do I have anything on my own wish list that really matters?
Get a head start and get into the real spirit of the holidays: Ask for and give gifts that benefit others?
Think about these better-than-going-to-the-mall ideas:
Crowdrise where you create your own fundraising event with your social network. As with other social networks, you create a profile but there the similarity ends. Instead of telling people where you are or what you are doing, you choose a fundraising project — by creating one or joining someone else's.
Its a competition, too. You earn points and prizes while being good.How cool is that? See how much you and your network can raise before the holidays.
The Grameen Foundation, another opportunity to create a fundraiser. Just ask all your Facebook pals, family, and friends to give you a donation instead of a gift.
Kiva where you and your friends could join forces to finance a Salvadorean entrepreneur who needs $300 to expand a home business. In fact, how about a challenge: How many micro-loans can your social network fund before December 25?
Heifer where you can choose a llama or a flock of ducks or honey bees as a gift in the name of that hard-to-please nephew while providing a sustainable income to a family.
Any of the above would be a lot better than secret-Santa gifts at work. How about pitting the shipping department against the sales department in fundraising, loans given, or ducks purchased?
Or keep it simple: Instead of asking for the latest in cookware, ask for a donation to your favorite charity. Or buy – and ask others to buy – from socially responsible organizations that give part of their proceeds to charity. Lots to choose from!
Some ideas to get you started: Chocolate from Madecasse or Sweet Riot.
Or just do a search for businesses devoted to sustainability in your area. For New York, try SustainableNYC.
If Aunt Maude must have her bubble bath, make sure its organic and Fair Trade.
(But I'd really like to see those networks worked!)
What non-traditional ways of giving do you recommend?