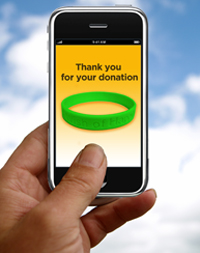 Tagged Products, Smartphones Offer New Business and Fundraising Possibilities
back
This is one of three blogs about the future of tech-enabled business models. Check out Tech Knowledge Will Expand Markets, Services of Entrepreneurs and Nonprofits and Break Down Walls to Build Creativity With New Technology to read what else is in store.
It started with GPS: You can track where you are and where you want to be because a device in your hand or your car is communicating – networked – with a satellite.
That brings us to yet another section of the McKinsey report on 10 Tech-Enabled Business Trends. This one is called "The Internet of Things."
These days, its common for products to have imbedded sensors, radio-frequency, and other communication tags. These use your mobile phone to note what store you are in and, with the Shopkick app, award you points for scanning the price of an item at Macy's and other stores.
Or a swipe of the Smartphone over a tag may trigger a donation to a nonprofit.
This isn't just about enticing customers into the store with coupons; it's about making them actually touch and look at the product.
It's a whole new marketing paradigm.
"Networked" things can be located and paid for by Smartphones, which allows all sorts of interesting business models. One just launching is a social enterprise, aimed at making commuting easier and less polluting. A bike-sharing program in New York uses Smartphones to track, unlock, and get payment for the use of shared bicycles.
A charity clothing store in England, gives an emotional tag to potential buyers in audio or video stories that can be scanned by Smartphone. Customers are enticed into buying by the story "told" by the item.
Sensors worn by patients can beam information to doctors, who can adjust treatment as needed, according to McKinsey. Does that have potential for the treatment of chronic illness in remote, doctor-poor areas? I'd say so.
How do you think tagged, "networked" products will be used by small businesses and nonprofits?