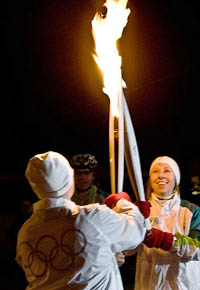 Social Responsibility Is a Winner at 2010 Vancouver Winter Olympics
back
When the Olympic torch is lit in Vancouver, Canada, on February 12, 2010, it will mark not only the beginning of the 2010 Winter Olympics but also a victory for social responsibility, inclusion, and environmental sustainability.
The
2010 Vancouver Winter Olympics
have incorporated social enterprises and non profits into the business plan, as well as encouraging for-profits to become "Stars" – yes, they get extra PR on the Olympic Games website – social responsibility. Categories of stardom are economic benefits; social inclusion and responsibility; and environmental stewardship and impact reduction.
Offsetters, to create clean-energy venues at the games themselves and to enter into partnerships with sponsors to offset the indirect carbon cost, such as air travel for spectators.
Podiums, wheel chair ramps, ski racks, and the like are being constructed by the RONA 2010 Fabrication Shop, which is actually a social enterprise providing work experience, job retention skills, and math instruction – fractions through carpentry – for people who have had difficulty "attaching to the work force."
The Vancouver Olympic Organizing Committee (VANOC) hired

Intersection Media

, a non profit organization that mentors would-be film makers, to create the video about the Fabrication Shop.
As to inclusion, check out the name: The Vancouver 2010 Olympic and Paralympic Winter Games. Not two separate games with two separate websites. It's all one big event in Vancouver.
VANOC will highlight the art and culture of Canada's indigenous people. Aboriginal designs will be licensed and one-third of the royalties will be used to support education, sports, and cultural activities for Aboriginal youth.
Photo © 2009 Ben Dauphinee, Creative Commons
How can we make social responsibility part of every big event? Or even part of local events? Do you know event planners who have incorporated social responsibility into their events? How?
If Vancouver can do it with one of the most complex and competitive events in the world, why not?
Let's hope it becomes the standard for other big events: Can you envision a socially responsible Superbowl? Or Tour de France? Or World Series? The effect of publicizing social responsibility and the opportunities for social enterprises and non profits would be phenomenal!
This is a mind-boggling collaboration among private companies, government agencies, non profits, social enterprises, and VANOC. And it is recognition, on a grand scale, of the value of social and environmentally responsible behavior.
Other examples of social responsibility incorporated into the Games include
These games even have an official carbon off-setter, aptly named
Forty-two such "stars" are named on the website, ranging from technology companies to Coca Cola. Star-studded achievements include ethical sourcing of labor and materials to programs for schools and for the homeless, and an environmentally friendly torch.
Think about it: The most well-known, closely watched international sporting event is rewarding and publicizing not just athletic prowess but social responsibility.