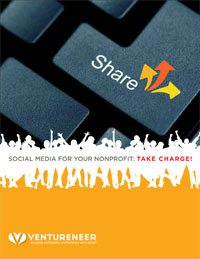 Social Media for Your Nonprofit: Take Charge!
back
Whatever the goal of your nonprofit – raising awareness of your organization's mission, generating funds and letters to public officials or finding board members – social media can help. But you need to use the right social medium for each purpose. And you need to use it correctly.
That's why Ventureneer has produced a new ebook to help you get acquainted with the most influential social media and their best uses so you can choose which ones will work best for you.
With the ebook, I want to pump you up! Nonprofits have been dabbling – often unsuccessfully – in social media because they don't understand the enormous benefits that accrue from a savvy social media program. I want you to get excited, to start thinking about all the ways
your agency,
in your community,
with your programs and clients,
can leverage your message.
… to bring in more money, more clients, more letters to public officials, and serve your clients better. That's the beauty of social media: It's all about you and your mission.
The ebook is chock full of examples of how nonprofits large and small have used the Big Five – Facebook, Twitter, YouTube, LinkedIn and blogging – to ramp up their programs so the ebook will inspire as well as guide you.
Social Media for Your Nonprofit: Take Charge! is a must-read for several reasons:
It isn't a sales job. Problems, how to resolve them, and the real costs of social media are discussed as well as the benefits.
It is jargon-free and accessible to everyone from novices to advanced users (which means from board members to execs to the staffers who will be implementing social media.)
It lists a wealth of resources for further exploration as an organization dives deeper into a particular social media platform.
It's free.
For a sneak peek at the ebook, visit us on Facebook.