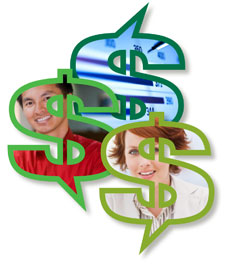 Social Media for Small Businesses: It's About The Bottom Line
back
Yes, we all know that social media are about conversation and engagement. But how does that conversation get translated into profit for small businesses?
Answering that question is the aim of No Bullshit Social Media, The All-Business, No-Hype Guide to Social Media Marketing by Jason Falls and Erik Deckers. In their new book, they intend to go beyond the fluff about "engagement" and into the world of the business person.
"For the bottom-line driven, they need to know that [social media] will make money," says Deckers.
I can't argue with that. In fact, I have to say that Deckers' view of social media and small businesses is right on and I will be hosting him in a webinar about his book on Tuesday, August 23, from noon to 1 p.m.
Social media make money for businesses. These days, social media are essential tools for businesses, no matter how small — solo-preneurs or the local dry cleaner — because customers use social media to get information about products and services.
Take that dry cleaner. At the very least, he should be on Google Places, Deckers says. It's a free platform that will show the dry cleaner's name and location whenever someone searches — via computer or mobile device — for a dry cleaner in the area.
No BullShit Social Media starts with a list of 28 reasons small business don't use social media. The 28 actually boil down to three:
ignorance about what social media are
ignorance about how to measure impact
fear of change, especially fear of losing control
The thing is, control's already been lost. Consumers are talking about you and your product. The real question is, are you answering?
If you're not, you're really losing control. Want an example? Check out @comcastcares on Twitter. I did, to follow up on an example Deckers gave of customer service becoming marketing and blurring the lines between departments (one of the things that makes management so afraid of social media).
@comcastcares has a long roll of complaints interspersed with efforts to help from Comcast social media staff.
In Deckers example, a query by "Bob" on Twitter resulted in an effective response which, in turn, resulted in Bob telling all his friends on Twitter how wonderful Comcast is. Customer service fixed the problem but Bob did the marketing. (Bob was lucky, judging by the complaints still coming in on that feed.)
Which takes us back to where we started: Consumers are talking. Are you answering?
"Bob does the marketing" says it all. Social media have changed the nature of marketing for all businesses, whether they know it yet or not, Deckers says. It's about the solutions you offer, not the product you'd like to pump 18 times a day.
People turn away from ads but they turn to user-generated recommendations (reviews at Amazon and Best Buy, complaints on Yelp, etc.) Is there anyone out there who doesn't read user reviews before buying a camera, a coat, a book or a TV?
Social media are where the customers are and that's where businesses need to be, Decker says, whether you are business-to-business or business-to-consumer. Again, no argument from me.
He does makes a distinction between what works for B2C and what works for B2B. The latter, he says, should stick to LinkedIn. The former should definitely be on Facebook. "The purchasing agent who normally buys your product won't think about work when on Facebook," he says. "When selling nutritional supplements, look to Facebook ads, not LinkedIn."
Interesting insight.
No Bullshit Social Media and its authors also de-claw the other bugaboo that keeps business owners out of social media: Return on Investment. Deckers maintains that people demand more in terms of measurable return for social media than they demand of other media.
If you pay for a billboard, he says as his eye lights on one, no one knows how many people respond to that billboard. How do you know which drivers actually stop at your hotel because of that billboard?
Social media have the same problem. You don't know how many people buy your product after they follow you awhile on Facebook. But there are ways to find out. And Deckers has some great ideas about how to do that.
Take Bob. Comcast could offer him a discount coupon to share with all his friends. The response to the unique code on Bob's coupon — and those of all the other influencers you give a coupon — can be tracked, giving you a pretty good idea of the return on your Twitter investment.
As the book says, "Social media aren't just about sales; they're about customer service and satisfaction, reputation protection, loyalty and advocacy building, research and development, and more." So measuring the effects of social media requires a new take on the concept of "return on investment."
No, I haven't read the entire book because it won't be released until October but it's on order. And I'm looking forward to talking with Erik on August 23rd. Join us!
Do you think social media works for small businesses? Do you use social media marketing?