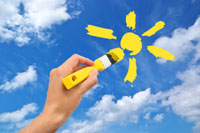 Social Entrepreneurs Make the World Better With Coffee Grounds, Mushrooms and Bread
back
They're all extraordinarily impressive. Where do you start in either lauding or supporting the inventiveness of people who use coffee grounds, mushrooms, and bread to improve people's lives? Or create green jobs and solar energy to save the planet?
I guess you start by saying "Wow!" Human inventiveness is unstoppable, and aren't we glad it is!
The people in question are social entrepreneurs and winners of the Utne 2010 Social Venture Network Innovation Awards. Their innovations range from those that fit on your windowsill to those that require a rooftop.
The commonality? Looking at something from a different angle while being aware that the world needs fixing, a characteristics that social entrepreneurs have in abundance. I don't think social entrepreneurs even know there is a box to think inside, they're so far outside it in their thinking.
Take the coffee grounds. BTTR, aka Back To the Roots, uses what otherwise would be garbage – thousands of pounds of coffee grounds – to grow tasty mushrooms, which they sell to restaurants and stores that want local as well as quality products.
But wait, there's more. They've also put together grow-your-own kits. A little misting and in a few days your own crop of fresh mushrooms can be harvested from a bag on your windowsill.
The concept allows even city-dwellers to grow their own food. And who doesn't like fresh mushrooms in their salad or pasta or … Recipes are included at the website.
This, by the way, is a great gift for socially conscious holiday giving. Think gourmet cooks or kids. Think anyone who'd get a kick of growing their own.
Their social impact has been impressive:
Diverted & transformed over 50,000lbs of coffee grounds into a rich soil for gourmet mushrooms
Sustained 10 urban school & community gardens by donating BTTRs premium soil amendment
Grown 7,500 pounds of gourmet mushrooms for sale at Northern California Whole Foods Markets
And, yes, their mushrooms are coming to a Whole Foods near you soon.
I hope the products of Hot Bread Kitchen will soon be there as well. At the moment, Hot Bread products are found at Eli's and at green markets. Another Utne/SVN winner, Hot Bread Kitchen uses "women's work" – baking – and the cultural heritage of their home countries to educate women in both English and the skills needed to open their own food businesses. Oh, and they pay their students while they learn.
Learning at Hot Bread Kitchen involves making bread and crackers with recipes brought with them by the bakers: tortillas from hand-ground corn; lavash, challah, focaccia, m'smen (from Morocco), and granola (from the recipe of a British hippie). The ingredients are organic and locally grown, hitting two more social enterprise targets.
This is a hybrid organization in that the profits from the bakery help support workforce development. They do take donations as well. Their next goal: an incubator kitchen in which new food businesses can get a start.
Hot Bread, too, has novel holiday and party gift options that are socially responsible … and tasty. (Maybe this is the year of edible responsibility gifts.) Their gift options include party favors in the form of little bags of that hippie granola or … be still, my heart! … chocolate-covered Armenian lavash.
Those are just two of the Utne/SVN winners. I'll tell you about green jobs, solar energy, and trees next week.
But for now, consider: Local, small, people-oriented, these businesses are making a difference in the lives of the people and in the well-being of the planet. Is it possible that big isn't better?
Can small social enterprises work within local communities to accomplish great change? Can you?