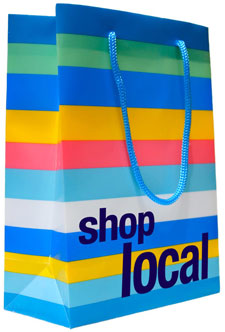 Small Businesses Build Big Revenue Gains with Small Business Saturday
back
Tracey Harding is one smart business woman. She is co-owner of Kidz Enterprise Toys, in Tyngsboro, Massachusetts, just a few miles from New Hampshire, where shoppers can save money instantly because they don't have to pay sales tax.
Last year, sales at Kidz Enterprise Toys on the Saturday after Thanksgiving were up 126% in money spent. There was a line from the register to the door all day. What's more, the upsurge in customers carried over throughout the holiday season.
How did Tracey do it? By leveraging an opportunity.
First, she hopped on the Small Business Saturday promotion headed by American Express to promote holiday shopping at small, local businesses on the Saturday after Thanksgiving. American Express gives a $25 credit to shoppers who use their American Express Cards at a small business that day. American Express also provides in-store and online promotional materials for business owners.
Harding took advantage of the free posters, Facebook ads, badges for social media pages — whatever was offered, she took. To that, she added her own canny business sense.
Well before anyone started thinking about Thanksgiving or holiday shopping, Tracey began telling her customers about Small Business Saturday as they checked out. Her rules of engagement were based on several simple statements:
"Get $25 in free toys!" or "Get $25 of free money." Tracey didn't care if the customer shopped with her, just that the customer shopped at a small business.
"Shop locally; your tax dollars will help your schools." Or "Shop locally; we provide jobs for your neighbors." Hers is a small community with that tempting lower price just down the road. She gave people a good reason to do their shopping at a local small business.
Never mind the date, just say "The Saturday after Thanksgiving." This year, that's November 24.
She had personal conversation about the upcoming "free money" whenever she could, whether she was taking a phone sale or ringing someone up on the register.
"Very succinct, very compelling," she said of the message she gives.
Although she sent out emails and put up signs in the window, she strongly believes that while signs may not register on people's minds and emails may be clicked to the trash bin, customers do respond to the personal touch, that friendly conversation. In fact, people came back to do more holiday shopping with her because they were grateful she'd told them about the Small Business Saturday promotion.
Even those who didn't get their $25 credit by shopping with her on that particular Saturday came back later because she was the one who told them how to save $25.
Loree Shirazi, owner of The Original Paw Pleasers in San Diego, CA, is another smart business woman. Her store saw an 800% increase in business on Small Business Saturday and the most foot traffic she's had in the past 14 years. Even more important, the upsurge carried over for months.
She, too, added a personal touch to the materials offered by American Express.
In Loree's case, it was postcards next to the cash register: Don't forget to shop small. She handed them out with every sale. And she used social media, a skill she refined with the information from the Small Business Saturday website. She and her groomer posted daily on Facebook and sent emails, reminding people to "Shop small!"
It worked, not only on the Saturday after Thanksgiving but for a long time after. "From the end of November, all the way through the summer, we had consistently higher sales," she says. "We had a decent increase when others were not doing as well, 10 to 20% increase for the next eight months."
Although Loree was the only store on her block participating, she was helped by public officials who very publicly shopped at small stores and by her business community, which enlivened the shopping areas with guitar players and teenagers to help carry packages. "It helps to have the community believe in you as much as you believe in them," she said.
It helps the communities, too, which is why Small Business Saturday is growing in popularity.
Loree's advice to other small businesses: There are no gimmicks, no costs in this promotion. It's worth taking a shot. We were sent all the tools we needed.
She has continued to promote it to every small business owner she meets, encouraging them to grab onto the opportunity. With a follow up like, "We've had a very good year, I'm really pleased," how could they say "no?"