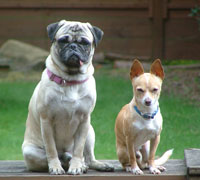 Small Businesses: A Cause Large Business Should Take Up
back
I know I'm prejudiced. I think entrepreneurship can solve some of the world's problems both in the developed and developing world.
This is one reason I wrote an article for Triple Pundit about corporations helping small businesses as part of their social responsibility work. American companies just had their best quarter ever. If those corporations want to prosper in the future, then they need to ensure that small businesses thrive, too. Reinvesting profits into activities that support small businesses is a great way for these large corporations to ensure their own prosperity; it helps their customers and the overall economy as well.
A win-win-win!
What form should such marketing activities take? The options are many. IBM is leading an initiative to help small businesses become suppliers to large companies. American Express organized Small Business Saturday.
But I want to put my two cents in for another initiative that's not getting a lot of attention: Goldman Sachs 10,000 Small Businesses. It's a $500 million initiative to unlock the growth and job-creation potential of 10,000 small businesses across the United States through greater access to business education, mentors and networks, and financial capital.
Leonard Schlesinger, President, Babson College summed up why this type of initiative is so important, "Over many years of researching and teaching entrepreneurship, we've seen the power of a practically oriented management education for small business owners. The 10,000 Small Businesses program will help more entrepreneurs access that education, which can have a transformational effect on the students and, ultimately, their communities."

I know from first-hand experience about the value of this type of initiative. I recently co-facilitated a FastTrac GrowthVenture course, sponsored by the Levin Institute, NYC Business Solutions and Kauffman: The Foundation of Entrepreneurship. I was impressed with the amount of help the students got from the instruction but also from each other. It was an enriching boost to business plans and problem-solving using information from professionals, and brain-storming and networking with peers. Students reported "aha" moments that they are now implementing to grow their businesses.
As Warren Buffett, CEO, Berkshire Hathaway put it, "Our recovery is dependent on hard-working small business owners across America who will create the jobs that America needs. I'm proud to be a part of this innovative program which provides greater access to know-how and capital – two ingredients critical to success."
Can and should large corporations help their smaller counterparts be more successful? Which corporations do you think should be doing this? How?