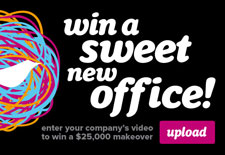 Small Business Office Make-over Contest Gives Opportunity, Lesson
back
If you are a start-up business or a nonprofit in need of an office make-over or a lesson in how social media can raise your profile, check out the Win a Sweet New Office Contest sponsored by Turnstone, a company that designs and furnishes offices.
If your company has fewer than 100 employees and your office space is make-shift or unsuited to the style and needs of your workforce, then quickly, grab your video camera, show what you're up against, and enter the contest, which closes before your taxes are due, on April 15.
Ambiance isn't just about candles and aroma therapy; it's a legitimate business concern to make sure your office allows work to flow, workers to collaborate, and information to be shared in a useful way, whether that is on a whiteboard or a TV. Just as important are the background features: the right technology, enough and the right kind of storage, and decent bathrooms.
Make your case and enter your video — it doesn't have to be a major production — but then take a look at what Turnstone is accomplishing. It's getting by giving, the mantra of all social media marketing. In this case, Turnstone is giving an important office upgrade to five winners. In exchange, it's increasing its own visibility exponentially.
Small businesses nationwide will check out Turnstone and its services. Many will enter the contest and those who do will send the link to Turnstone services to their social networks because winners are determined by popular vote.
Contests such as this are a great way to expand your followers and your visibility online.
Turnstone's efforts are a legitimate outreach to small businesses and nonprofits. Each contestant will also get increased visibility as people check out multiple videos to determine which one will get their vote, another reason to enter.
Even if you don't win, a lot more people will know who you are and what you do. What's more, Turnstone is a StartUp America partner so if you join StartUp America, you can avail yourself of mentorships, trainings, and discounted office furniture.
Oh, by the way. My vote will go to the two values-driven businesses showcased already … unless some more crop up that are even more compelling.
If you liked this article, you may also like:
Am I Dreaming? More Government, Business Support for Small Businesses
Corporations Team Up to Give Small Businesses a Leg Up
How to Successfully Run a Social Media Contest