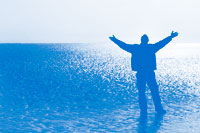 Short, Sweet, To the Point: Human Spirit Prevails
back
What is more profound, uplifting or wise than:
Hope in the future. Life goes on. The human spirit prevails.
Those were the words of Risa Lavizzo-Mourey, president and CEO of the Robert Wood Johnson Foundation.
Simple. Profound.
Add her other observations and you have a short, sweet summary of spirit that keeps social entrepreneurs and nonprofit leaders energized.
We're on the edge of a new frontier.
Improving the way we do things will pay a dividend far greater than any we got before.
To drive social change, we need leadership, vision, passion, and savvy.
None of us can do it alone. We need resilient, resourceful partners.
There is a new generation of social change agents. (God bless those Millennials!)
The whole is greater than the sum of its parts.
While failure is a bitter pill to swallow, it teaches lesson.
The lessons Risa thought worthy of note:
Data needs to be clear and convincing.
The need needs to be obvious.
The solution must be do-able.
Taking social innovation to scale takes time. Don't let urgency squeeze timelines so projects become undo-able.
Under-funding an initiative can undermine it.
Simple. Profound.
'Nuf said.
For complete coverage of the 2010 inaugural Social Impact Exchange Conference: Taking Successful Innovation to Scale, go to Ventureneer SIEX10.