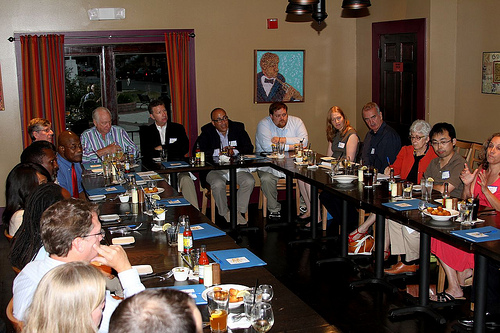 Revitalizing Local Communities Through Impact Investing
back
Impact investing – the balancing of financial returns with social impact – comes in all shapes and sizes. Recently, I attended an event held by the Community Investing Network of NJ, an organization that is a great example of how government, foundations, and individual investors can come together to revitalize local communities.
This new group connects investors with local community investing opportunities, an approach that can be applied pretty much anywhere, according to group organizer, Bruce Arbit, Principal and Founder of Melarbit Partners.
Twenty six people gathered for dinner at Hat City Kitchen in Orange, NJ, to learn about the renaissance taking place in the Oranges and a unique blended-capital social investing approach to community investing that is providing long-term affordable financing for eight anchor properties around two major transit stations.
Hat City Kitchen, a restaurant, bar and live music venue, was the perfect setting for this local community investing kick-off dinner. Owned and operated by a nonprofit community developer Housing and Neighborhood Development Services (HANDS), it is an example of a social enterprise, in which profits from a commercial venture support the parent nonprofit. In this case, profits from Hat City Kitchen are funneled back to HANDS, which supports the ongoing revitalization taking place in the Valley Arts District.
I've been writing about these developments for a while but two things struck me about this gathering. First was the opportunity to experience the energy of the people involved in these community development efforts.
HANDS' co-founder Pat Morrissy, whose dedication to providing affordable real estate is the catalyst for this revitalization and who has been essential in attracting the artists, entrepreneurs, community-builders and innovators who have settled here and opened up new businesses in this area.

Entrepreneurs like Lorraine Gibbons, one of the speakers and founder of Garden State Urban Farms (GSUF), a hydroponic greenhouse established in Orange. GSUF is a for-profit whose successful business model provides employment opportunities for local residents; educational programming for several high risk groups ,such as ex-offenders and at-risk youth; and low-cost healthy food in urban areas throughout New Jersey.

Dawn Fitch, another speaker, and president and founder of Pooka Pure and Simple Body Products, who was featured in the March 2012 issue of Black Enterprise Magazine. In addition to running a growing natural bath and body products operation, she has integrated the community into her business model through a unique collaboration with the Girl Scouts Heart of New Jersey to introduce entrepreneurship to young girls.
All are part of a new breed of entrepreneurial, creative leaders who are committed to building sustainable, private businesses while building community. They provide an inspiring model for the future development of formerly 'distressed' industrial areas like Orange, once considered the hat-making capital of the world.
Second, I was delighted to see many different types of potential investors attending. It gave me a better understanding of who they are and what motivates them.
These investors are a mix of individual investors interested in real estate, financial advisors who manage money, and other assorted professionals who provide financial lending products, such as banks, community development financial institutions. They are interested in blending social with financial return, but are still exploring the options of this new sector. Their interest and questions are consistent with research conducted by the Calvert Foundation.
Others were motivated by more traditional community and philanthropic interests. They wanted to learn how they could use their financial resources to advance their missions — affordable housing; economic development; the arts, youth and education.
Both philanthropists and investors liked the community engagement collaborative impact investment provides. They also liked the concept of leveraging their resources by collaborating with others to pool funds and maximize impact. Two early funders of this blended capital social investing approach – NeighborWorks America and Wells Fargo Regional Foundation — are particularly interested in seeing their investments in HANDS leveraged through the participation of other community investors.
I know we're still at the beginning of understanding and utilizing these new financial tools, however, I am encouraged by the emergence of smart, strategic, on-the-ground groups like the new Community Investing Network of NJ. The more we can bring together the entrepreneurial energy and ideas with the capital required to bring them to life, the better for all. And it's another bite out of the ongoing economic gridlock we've been facing in this country for the last few years.
Photo attribution. Lori H. Ersolmaz, Voices of Hope Productions