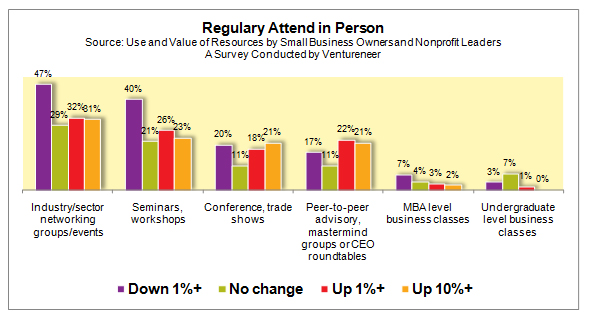 Research Confirms Entrepreneurs Turn to Networking for Help
back
Over the past few weeks, Ventureneer has been conducting research to find out about the use and impact of resources among small business owners and nonprofit leaders. I'm still digesting all the information for the full report, Use and Value of Resources by Small Business Owners and Nonprofit Leaders: A Survey Conducted by Ventureneer, but I wanted to start sharing some of the insights.
When you're an employee you have others who share what they know and you learn from one another. When you're the leader you still need knowledge and insights, but there are times when turning to your employees isn't appropriate, or you just want an outside perspective. According to Ventureneer's preliminary findings, entrepreneurs can get these insights through a combination of formal or informal learning.

Learning styles vary from one small business owner to another, with no one style dominating. To learn some things, business owners want a structured environment such as seminars and workshops, conferences and trade shows, CEO roundtables and mastermind groups (peer-to-peer advisory groups) or MBA and undergraduate classes. Other times, especially when entrepreneurs are struggling, they prefer to use a social environment such as industry networking groups or events.
There's an informal "grapevine" of information when people network. Small business owners talk about tools that help them be more productive and vendors with whom they've had a less-than-positive experience. When they really know the other person well, entrepreneurs may ask for advice about a particular situation. In spite of the gender stereotype men, as well as women, share … at least when it comes to what's working and what's not in their business.
According to a study that appeared in the British Journal of Psychology, sharing personal experiences with others is critical to handling change effectively. Reflecting on what you've learned and gaining insight from peers' experiences broadens everyone's perspective and prepares you for the ups and downs of building a business.
So fess up… what insights have you gathered that helped you strengthen your business?