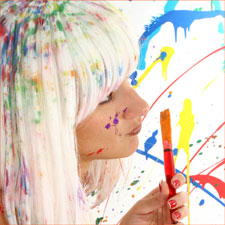 Outside the Box Marketing Reaps Big Rewards on a Small Budget
back
I'm sure you are all aware that the cost of advertising is just plain…well…outrageous. Placing ads in magazines, newspapers, and on the radio can cut deep into a business owner's pocketbook. So what are small- to medium-sized businesses supposed to do? You sure can't compete against the advertising budgets of the big guns! And if you try to say, "Why bother advertising or marketing at all?" you risk going completely unnoticed, which could put you out of business.
TRAY Creative, a Seattle-based boutique marketing and branding agency created a buzz around their own business that in less than 30 days caused website visits to soar 150%; they used a cause marketing campaign. Not only did they come up with an innovative way to market their business and prompt individuals to spread the word via social media, they found an additional way of demonstrating their social responsibility. No stranger to doing good, TRAY regularly takes on pro bono initiatives to support deserving nonprofit organizations.
So how did they do it? For starters, they partnered with Jolkona, a Seattle-based nonprofit that uses a web-based platform to connect individuals with global micro-giving opportunities. They created a customized online "giving page" for TRAY Creative just in time for the 2011 holidays.
Throughout the month of December, donors visited this customized web page to raise money for a handful of selected local nonprofits. TRAY designed the page to fit its own branding, and developed content and strategy for the social media and PR components of the campaign. Jolkona did the coding and hosted the page, which was linked to TRAYcreative.com. Jolkona created a simple, user-friendly page that consisted of:
a pie chart allowing visitors to see donation progress
social media buttons, (and this is where TRAY Creative received a massive amount of exposure)
a simple call to action – Donate Here
TRAY recognized that in order to generate interest in the campaign, it was important to offer an incentive to potential donors. They offered a prize of $2,500 in pro bono marketing services to the organization that raised the most money during the fundraiser. TRAY raised $6,800 for local nonprofits and, in turn, received a massive amount of exposure throughout the campaign.
So getting down to the nitty gritty…what were the hard costs to TRAY? They were largely time and labor, with a small licensing fee to Jolkona. TRAY promoted the competition through marketing tools, such as e-blasts to their in-house mailing lists, online press releases, Tweets, Facebook, and LinkedIn. Meanwhile, the nonprofit organizations blogged, tweeted, and promoted the competition themselves, bringing a measurable boost in brand visibility to TRAY.
So the moral of the story is that small businesses with limited budgets and staff can accomplish big returns and generate powerful exposure. Through cause marketing strategies and a nonprofit partnership that aligned with TRAY's core values, TRAY saw their clients, business partners, colleagues, and social media followers become actively involved in the fundraising effort. Through their efforts, they saw a significant gain in online traffic, social media activity, and they ratcheted up awareness of their own brand.
If you liked this article, you may also like:
Local Projects Can Be Great Causes for Small Businesses
How-tos of Cause Marketing for Businesses, Nonprofits Laid Out in New Book
What Small Businesses Need to Know Before They Choose a Cause Marketing Partner