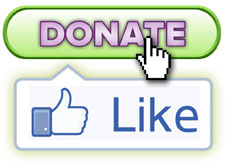 Online Fundraising: It's Where You Want To Be
back
If raising funds online is about technology, then raising funds through direct mail is about paper. Of course, neither is true. Online fundraising, like all forms of fundraising, is a way to form and nurture a relationship between your nonprofit and donors or prospective donors.
The move to online marketing is necessary because that's where donors are spending their time. Among younger donors — those who will be your base in the next decade — far more are giving for the first time online than by mail. And the revenue per new donor is greater — $62 vs. $32 — for those who join online.
Online giving includes the "donate now" button on your website; donations made through Facebook, YouTube and other social media; and those made through portals, such as Capital One, Charity Navigator, GuideStar and JustGive; and donations solicited by email. That's a lot of options and each is expanding.
Although LinkedIn doesn't allow direct donations, it deserves a special mention because its database and social connections are great for establishing contact. You can use it to identify potential major donors and to get that all important introduction.
Consumers are taking control of the marketplace. They aren't just sitting ducks for incoming messages. They can block your message or they can seek it out on their own terms. They can ask their friends or friends of friends about worthwhile causes.
As I'm sure you know from your own experience, the recommendation of a friend is a good motivator for giving to a particular nonprofit or cause. As people spend more and more time online, particularly using social media, those word-of-mouth recommendations will be online, too. Make sure your nonprofit is visible, accessible, and "talked" about online.
With online marketing, you let people know who you are and what you've accomplished. You can tell stories about the impact you're making, answer questions, say "thank you," and project personality. You won't be just another solicitation in the mailbox.
Building an online marketing program takes time, just as traditional marketing does. You have to get your name out there, build relationships, and figure out the best platforms to deliver your particular message. With online tools you can tweak the mix of media to get it just right. That will take trial and error … and time.
Multi-channel cultivation that blends online and offline elements builds the best relationships. Donors who give both online and off are the most loyal and generous.
Yes, online donations are a small percentage of total donations now. But start building your online presence now, learn to use the tools now, and as online giving grows — as it surely will — so, too, will your income stream.
For a somewhat deeper look at the importance of online marketing for nonprofits, I'm giving a free online seminar Building Relationships: The Secret to Effective Online Fundraising on Wednesday, October 12, from 12n-1pm ET. Join us, ask questions, and move further into the future of nonprofit fundraising. The webinar will include case studies to show you why platforms like Twitter and LinkedIn are tools you want to understand.
How does your nonprofit use online marketing?