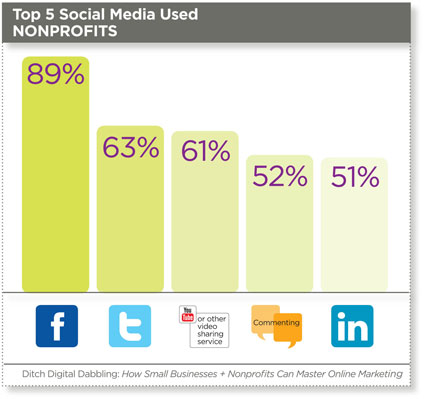 Nonprofits Should Give LinkedIn a Second Look; They're Missing Out If They Don't
back
LinkedIn is viewed by many as a wall flower but it could be the belle of the ball.
Take a second look.
Few nonprofits recognize LinkedIn's potential, according to Ditch Digital Dabbling: How Small Businesses + Nonprofits Can Master Online Marketing, research undertaken by Ventureneer and Message Medium. Nonprofits use LinkedIn less and are less confident of its effectiveness than small businesses and, frankly, small businesses aren't paying much attention to it either. Only the digitally literate – the power-users who devote time to online marketing – recognize that there's something about LinkedIn that's very attractive.
LinkedIn has 161 million affluent, influential members. They work in fields, from technology to finance, skills that nonprofits need on their boards. And LinkedIn members are there to be found. If their passion overlaps with your nonprofit's mission, they will welcome the opportunity to connect.

LinkedIn lets you search for the people who are passionate about your cause. It's as easy to use as filling out a form. You can search for those who are within your geographic area and who have skills and values that are a fit for your nonprofit.

You can join groups that people you want to know have joined. By posting comments and answering questions within the group, people get to know you, your capabilities, and your values. When you do connect one-on-one, they'll already know you.

By joining groups, you can also get the opinions of others in your field about challenges you face, from ethical questions to practical checklists. By answering questions, you establish yourself as a thought-leader.

Up-to-date, keyword focused company and personal staff profiles will help your organization be found by those who are looking a place to volunteer, donate or work.

LinkedIn connections are one level of networking that can lead to other kinds of networking whether getting together with a group or a one-on-one meeting with someone who has a passion for your cause and something to offer your organization.
Let's look at how one nonprofit consultant uses LinkedIn. John Brothers, principal of Cuidiu Consulting, specializes in helping nonprofits build capacity. Often, fundraising is part of the services his firm provides. For Brothers, success is defined by long-term relationships with his clients and with funders. Before he meets with a funder, he does his research so when he makes " the ask", he knows that the nonprofit he represents is a good fit for the funder.
Before taking off on a business trip, Brothers goes down a checklist that includes searching LinkedIn to find funders at his destination with whom he'd like to build a relationship. He tends to contact them directly – a cold call – rather than asking connections for introductions so he uses one of LinkedIn's paid access options.
Most of the benefits listed above can be used for no charge. By paying, one gets access to more people, not just those who are connected to you in some way. Also, more sophisticated search options are available as well as the ability to use LinkedIn's Inmail.
Once his search results are in, Brothers writes a note to those he wants to meet. He points out their common concern for a cause suggests breakfast or coffee to get to know each other better. He rarely gets turned down.
Brothers is also on the boards of several nonprofits. In that capacity, he uses LinkedIn to round up auction items for fundraising galas. His LinkedIn connections can often make an introduction that leads to free tickets to a show, sporting event or a cruise.
LinkedIn gives you access to a huge network of people who can help your organization by talking things over, donating services or providing funding. Yes, it is technology-based but so is your mail these days. You've mastered "send" and "compose." You can master LinkedIn.
The online marketing survey gathered extensive data and benchmarks about how small businesses and nonprofits use online marketing and whether they are seeing results. For the executive summary, visit Ditch Digital Dabbling: How Small Businesses + Nonprofits Can Master Online Marketing.