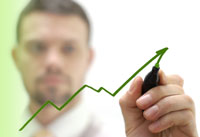 Nonprofit Leaders Take Note: Salaries May Rise Next Year
back
Surprise! Despite the challenges facing nonprofits in 2009 – and predicted for 2010 – salaries for nonprofit leaders held steady and, in some cases, increased.
This according to the annual salary survey put out for New York City, New Jersey, and Washington D.C. by Professionals for NonProfits (PNP) an organization that provides employment services for nonprofits.
(Full disclosure: Ventureneer's sister company, Stengel Solutions, fielded and tabulated the survey.)
The good news is that in New Jersey and Washington D.C., well over 2/3 of those surveyed got through 2009 without laying off staff. The great majority offered slight pay increases, continued benefits, and were able to provide all programs and services.
New York City didn't do quite as well but, still, 81 percent maintained programs, 50 percent offered slight pay increases and 61 percent did not lay off any staff.
Part One of the message in this survey is that nonprofit leaders know how to manage their resources to get through tough times.
"Nonprofit leaders understand that they need to be able to navigate through short-term challenges so that they can later take advantage of longer term opportunities," says Gayle Brandel, President & CEO of PNP.
In other words, if you cut staff too deeply, you won't have the people you need when the economy recovers.
Brandel's survey also found that nonprofit leaders were already having a tough time finding qualified people, so tough that they had to pay more for staff in 2009.
While that may seem odd with all the for-profit execs out there looking for work, Brandel explained the seeming paradox.
"There is a huge glut of applicants but they are not experienced in the sector and have different skill sets," she says. Experienced nonprofit professionals spend decades building their careers and the best have track records of success. Transferees from the for-profit sector do not necessarily have the experience and expertise needed by nonprofit organizations, she explained.
Of course, the biggest gains were in fundraising salaries, up about 10 percent across the board, and high-level finance salaries, which were up about 7 percent. Nonprofit leaders recognized that they needed to keep the people who bring in the revenue.
Part Two of the message is that nonprofit budgets need to reflect realistic salaries. You are not going to be able to get good staff at bargain-basement prices. A large majority of the respondents in all markets expect to be hiring in 2010.
No surprise: larger nonprofits are more likely to pay more for the same position. Overall New York City salaries were the highest with DC and NJ running neck and neck for second place.
The differences among the three areas are interesting to note: 93 percent of New York City nonprofits think the worst is over, with 76 percent expecting a much better year in 2010. New Jersey and DC nonprofits are not so optimistic. Although they expect small salary increases, only 32 percent in DC think the worse is over; 39 percent say the worst is over in New Jersey.
So, there's good news and bad news: The good news is that the skills and experience of nonprofit staff are appreciated; the bad news is that the budget allocation for staff may need to be re-assessed. That reassessment could lead to another problem: convincing funders that infrastructure and overhead need to be funded at a reasonable, humane rate. I've discussed that before in Nonprofit Funding Standards Undermine Nonprofits.
Has your nonprofit been hiring or has it been firing? Have you been able to raise salaries? Are you planning to hire staff in 2010?