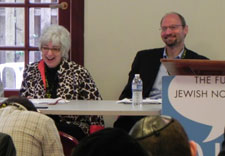 Nonprofit Giving Has Changed. Does Your Nonprofit Measure Up?
back
$23 billion. That's the decline in giving from 2007 — the peak giving year — to 2010.
That's not chump change. Think of all the social good that could have been done if those dollars hadn't disappeared.
Philanthropy is changing, for everyone: grantees, donors, and foundations.
We need new models because "the way it was isn't the way it is any more," as Saul Orbach, managing director of The Beachhead Group, said at the Future of Jewish Nonprofits Summit in August.
As I listened to Saul and my other co-panelist, Avi Zollman, communications director for the Jewish Funders Network, I realized that the problems and solutions discussed at this summit were really the problems all nonprofits, foundations, and philanthropists face.
The challenge isn't "Jewish." It permeates the nonprofit sector. It's about the economy; the ability and demand to measure impact; generational shifts; and increased emphasis on competition.
Economy: People lost money. Endowments shrank. Trust faltered. Now foundations and philanthropists, like investors, want to know what they'll get for their money. And, because money is tighter, they are focusing on projects that give the most bang for their buck.
Measurement: There is, as Avi said, a real turn towards giving for impact. Those who give want to know how much change their donations made. Those who get must be able to quantify the difference they're making.
"Return on investment" used to be four-letter word in the nonprofit sector. No longer. People want data to prove that the school program you run helped children succeed at school and in life. They want to know that your senior center actually improves the quality of life for those you serve. You need to tell the stories of your clients, track results, and develop compelling data.
Evaluation is a two-edged sword, by the way. It can make your organization more desirable to would-be funders but this is one of those situations where it costs money to make money. Some funders realize this and are putting up the money for consultants, software, and staff to develop and track the metrics they demand.
Generational shifts: Baby Boomers still have a lot of money and they want to be active givers, of their time and talents as well as their money. The future of philanthropy — Gen X, Gen Y, and Millennial — like to be actively engaged in giving, whether by volunteering their skills or giving money.
Young donors are also joining collaborative giving ventures such as Giving Circles, in which they pool their resources, study candidates for grants, and donate where they think they can do the most good … that impact thing again. A larger donation can have a greater impact that multiple small donations and its that social thing: The up-and-comers like to be hands-on and talk about it.
Competition:The big difference between Boomers and younger philanthropists is competition and collaboration.
Yes, that sounds like an oxymoron but it's not. Consider the Members Project From American Express, Pepsi Challenge and Chase's Community Giving Program. Vote for your favorite charity! That's competitive for the nonprofits, collaborative for the givers (get your friends to give!), and social-media based. That's all new.
The Jewish Federation of San Francisco is tapping into both the competitive and collaborate aspects of young donors through intensive, hands-on involvement in the grantmaking process.
But they expect the nonprofits to compete for their funds. It's back to those metrics. When giving circles decide who gets their money, they're looking at impact, at bang-for-the-buck, not at which organization has been around the longest.
Maybe all that is the "bad news," the push for change and retrenching.
If so, then the good news is that ways to donate are springing up. Let's delve into that next week.
What changes have you noticed in philanthropy? Are those changes helping or hurting the nonprofit sector?