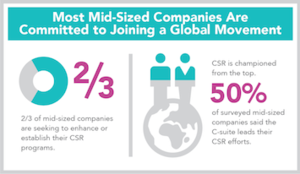 New Research Report Reveals Corporate Social Responsibility Trends
back
by Business4Better (B4B)
The non-commercial community partnership movement produced by UBM plc, released a research report on Tuesday that defines major trends in the way mid-sized companies approach corporate social responsibility (CSR), including plans for community engagement, employee volunteerism and metrics of success. It explores both challenges and opportunities that mid-sized companies regularly face in implementing their CSR programs.
"Most mid-size companies have a business-with-a-purpose mindset," said Joshua Dome, general manager of Business4Better. "We conducted this research to understand the gaps and opportunities, with the ultimate goal of creating action plans for executives trying to infuse social good as part of the way they do business."
The Business4Better research report reveals mid-sized companies' desires to help people and nonprofits in their local communities through programs that simultaneously increase business performance, drive employee participation and improve brand reputation. Business4Better's research report is based on findings produced by a first-of-its-kind survey of 173 business executives from mid-sized companies that employ between 100 and 5,000 employees. The full research report can be downloaded here, and highlights include:
Two-thirds of mid-sized companies are seeking to either enhance or establish their CSR programs to do business with a purpose.
About 60 percent of mid-sized companies focus their CSR efforts on education, demonstrating companies' dedication to people-focused initiatives that cater to young people and the development of the workforce of the future.
Mid-sized companies need tools to measure success and often miss opportunities to tie CSR programs to positive business performance. Only about 20 percent measure their CSR program's success by its financial impact.
Companies' community involvement is championed from the top; half of mid-sized companies' CSR efforts are led by the executive leadership team.
The report supports the growing number of mid-sized companies that choose to do business in a way that positively impacts communities through corporate and nonprofit partnerships. It offers suggestions and best practices that companies can apply to business models, such as placing increased importance on the collaboration of C-suites and marketing or human resources departments for successful CSR program implementation and providing training for those who measure and track these programs.
The report is part of the larger Business4Better movement, which is centered on an inaugural industry-leading conference and exhibition that will feature high-level keynotes, educational content, relationship-building opportunities and dynamic exhibition space for companies to meet and understand nonprofits. The Business4Better Conference will take place May 1-2, 2013, in Anaheim, Calif.
To learn more information about the Business4Better movement or the Business4Better Conference, please visit our website.
About Business4Better Movement
Business4Better (B4B) aims to build a movement of successful corporate and nonprofit partnerships that have a positive impact on communities and expand the meaning of being a better business.