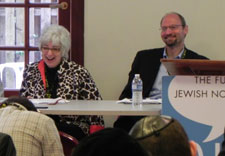 New Models of Philanthropy Will Challenge, Enrich Nonprofits
back
Last week, I laid out the trends in philanthropy that are forcing foundations and nonprofits to change the way they do business: the economy; the ability and demand to measure impact; generational shifts; and increased emphasis on competition/collaboration.
Now let's look at how you can meet these challenges. Several of these ideas were discussed by Saul Orbach, managing partner of The Beachhead Group and Avi Zollman, communications director for the Jewish Funders Network who were my co-panelists at the Future of Jewish Nonprofits Summit in August.
Tap new funding streams:
Venture capital: Even venture capitalists and start-up companies with little income are becoming philanthropists. Tmura is an Israeli public service venture fund. When venture capitalists fund a company, they give a piece of the equity to Tmura. If the business prospers and goes public or is sold, Tmura cashes in the equity and distributes it to vetted nonprofits.
If the business fails, Tmura gets nothing.
Any privately held company can give a piece of itself to Tmura, although the emphasis is on developing a culture of giving in technology companies.
It's a model worth considering for several reasons: It builds giving into the DNA of start-ups; it is a way to give when your business has no money to spare; it fits in with the belief of entrepreneurs that giving back is good for business.
Employee Stock Ownership Plans: Not what you think and not easy to explain. For this one, Saul said, you need to get a lawyer involved. The short version: An ESOP is a legal vehicle that allows privately held companies to donate a portion of their value to nonprofits. Stock in privately held companies is not liquid because it isn't traded on any stock market. An ESOP gives this stock liquidity while providing tax benefits to the owner of the business who also retains control of its operation.
It's a complex but effective way for owners of companies to make significant donations to nonprofits. No, I am not going to tell you all the details — it's complicated! But write it down and ask your attorney. It may be just the thing to facilitate a major donation.
Intermediaries: Your development staff, no matter how hard working and savvy, may not have all the connections you need to access high-wealth donors. That's where intermediaries come in. You may not have used them before but now may be the time to get more information about them.
Investigate what you need to tap high-wealth donors. It may be a change in your pitch or a change in what you ask for. Learning these ropes may require some outside help.
Tap social media: You may not be making the most of the connections you do have. Learn to use advanced search options on LinkedIn. You'll be surprised at who you'll turn up, people who can make valuable contributions and with whom you already have a connection. Don't scoff. Try it.
Avi addressed some other social media funding options, such as the Members Project From American Express, Pepsi Challenge and Chase's Community Giving Program, all of which involved social media-based competition for corporate donations.
And, remember, social media are where the donors, board members, volunteers, and staff of the future are, those Gen Y and Millennials. You need to start building a relationship with them, getting them excited about what you do, and ready to sign up when you ask for help.
Offer active involvement in your mission:
Hands-on philanthropy: Baby Boomers, Gen X, Gen Y and Millennials are all looking for active involvement in the nonprofits they support. Whether it's service on a board, working on a committee or fundraiser, they want to get their hands dirty. Young Heroes attracted a range of ages to its Swazi Challenge at $10,000 each.
Jewish organizations on both the West Coast and the East Coast have found that people — Millennials in particular — want to collaborate, become knowledgeable, and be part of the decision-making process. For the UJA-Federation of New York City, that means a non-voting seat on the boards to learn what it's all about and share ideas.
For the Jewish Federation of San Francisco, it means hands-on involvement in grantmaking.
Lose your fear of metrics:
I've said it before and I'll say it again, evaluation is something you do for yourself, to find out ways to make your programs rock! Learn to love the numbers. Find out how to best show the impact your program makes. Start with telling the stories of your clients and move on from there. When you are comfortable measuring outcomes and impact, you'll be able to get the hard data that foundations and donors are demanding.
There you have it: My to-do list for nonprofits getting ready for the future of philanthropy.
How has your organization changed in order to accommodate changing trends in philanthropy?
If you liked this blog, you may also like:
UJA Federation of NYC Exemplifies Changes in Philanthropy
Jewish Grantmaker Experiments with Competition, Long-Term Grants, Hands-On Involvement
Correction: "Employee Stock Option Plans" should have read "Employee Stock Ownership Plan."