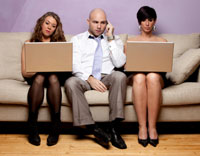 Millennials Will Force Businesses, Nonprofits to Change Culture for the Good
back
Time flies! The leading edge of GenX is entering its mid-life crisis period. The new kids on the block are the Millennials/GenYers, born between 1981 and 1996 into a world transfigured by a new kind of connectedness and technology.
And they have a whole new culture that businesses and nonprofits alike will have to accommodate in new staff, customers, clients, donors, volunteers and, eventually, board members and leaders.
Start now.
Think about collaboration instead of hierarchy; wiki-work (aka teamwork) instead of individual projects; think multi-tasking instead of linear one-thing-at-a-time; think trial-and-error instead of perfection on the first try; think social media.
Creativity and problem-solving have always required these traits: think science experiments that fail but produce information for the next hypothesis or the weeks of rehearsal and reblocking for a play or the hours of practice by a sports team.
In cyberspace, where Millennials spend a lot of time, there is no hierarchy. Projects are started, critiqued, redesigned, refined, edited, and passed along. If the computer crashes, reboot and start over. Think about that: It's a completely different philosophy.
Open-source – anybody can look and make suggestions – is commonplace, as is collaborative software (sometimes free) such as GoogleWave. Your work is subject to continual scrutiny but it is constructive criticism, not competitive "Gotchas."
That's a good thing. Networking, support, willingness to risk are what entrepreneurship and business success are all about.
"Helping others" is a top priority for 21 percent of Millennials and 93 percent prefer updates via email, according to the Pew Research Center. The same report indicates this cohort is better-educated but less interested in Wall Street jobs.For social entrepreneurs and nonprofits, this represents a rich resource. For small business owners and Marketing and Human Resources departments, this means a seismic shift.
One company that "gets it" is Jibe, which offers job-hunters a way to combine their Facebook and LinkedIn pages for access by employers. Sounds risky until you look at the other part of the equation: The job-hunter can find people who work where they want to work and get advice, references or a heads-up on job openings.
For current employees who are Baby Boomers and GenXers, this incoming tide means recognizing and finding a way to collaborate with a new culture. Don't panic! Another attribute of the Millennials, according to Pew, is that they respect the experience and knowledge of older generations.
How has your nonprofit or small business adapted to serve/work with GenYers? Do you use social media more? Have you experienced cultural clashes? How have you resolved them?