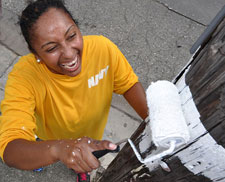 Local Projects Can Be Great Causes for Small Businesses
back
If I've said it once, I've said it a thousand times: Cause marketing is a great way for small businesses to build their brands, increase customers loyalty, and grow. Successful entrepreneurs know this.
But, to repeat myself again, you've got to find the right cause to partner with. Now there's a new option for doing this, one that can match your business up with local, informal civic groups in what they're calling "community cause marketing."
The goal of community cause marketing is not raising money but the outcome that money can bring about, according to Michael Sattler, CEO of Cauzoom, an active player in the sector.
Community cause marketing doesn't require formal institutions. The cause may be cleaning up a vacant lot or painting a fence or buying uniforms for a local team — anything that the community wants to do. Businesses can ally themselves with a cause by donating paint or volunteers or donating funds. It's not about the money, it's about results.
"In most cases, small businesses rely on word-of-mouth referrals for their customers and have a unique sense of the communities tied in to their location and customers," Sattler says. "Favorable referrals go a long way in increasing loyalty and goodwill for small companies."
Such campaigns are inexpensive marketing tactics that increase the visibility of small businesses while bringing together and building communities. The key to success in this small-scale, informal community cause marketing is social media, Sattler points out.
Where once a group wanting to buy athletic equipment for a local school might have put up posters in store windows or relied on friends calling friends, now the members of that group can post information about the cause on their Facebook pages, tweet about it, and email everyone in their address books.
That casts a wide net and, if you are the small business supplying the paint or volunteer labor or a donation, your name is spread far and wide.
Sattler takes reliance on social media a step further. He believes that in the not-to-distant-future, traditional advertising will be meaningless. It will all be word-of-mouth via social media.
Sattler's company is a match-maker between small businesses and community causes as well as overseer and guide for the community groups. He helps them use their social media connections, gives them visibility on the Cauzoom site, and organizes the donations and business support.
Projects developed by community members pay no fee for the guidance and visibility provided but Cauzoom does charge a promotional fee to participating businesses. Businesses can support causes as varied as an art-in-public places or helping a family recover from a fire. Each cause has specific outcomes and a time frame in which to reach the funding goal. No money changes hands until the project is fully funded.
It's very local, very personal. And very good for communities and small businesses.
What projects would improve your community?
This case study was done in conjunction with an online marketing survey, which gathered extensive data and benchmarks about how small businesses and nonprofits use online marketing and whether they are seeing results. For the executive summary, visit Ditch Digital Dabbling: How Small Businesses + Nonprofits Can Master Online Marketing.
If you likes this article, you may also like:
How-tos of Cause Marketing for Businesses and Nonprofits Laid Out in New Book
Consumers Worldwide Expect, Reward Responsible Businesses
Cause Marketing: A Win-Win for Small Businesses and Nonprofits