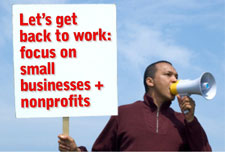 Jobs Act Is Right On: American Must Support Small Businesses
back
Small businesses are where most jobs begin, as the president said. Proposing $70 billion in new tax breaks for smaller companies could encourage those sitting on the fence about hiring to do so. The more people employed, the more people buying consumer products. And with new hires, companies have to buy desks, computers, phones, and more offices supplies. All good.
We could put a lot of people to work retrofitting buildings to be energy efficient, which he didn't say, although he is pushing infrastructure refurbishment. Maybe he just didn't want to say the word "green" in light of the reception given his previous efforts in sustainability.
Nonprofits need tax breaks, too, which Diana Aviv, president of Independent Sector, said but the president didn't. While the payroll tax cuts will help nonprofits, the tax credits for hiring long-term unemployed and veterans would not … at least not as outlined so far.
We need a long-term strategic plan to educate America's workers and that focuses on growing small businesses, as Jeff Immelt (of GE) and Ken Chenault (of American Express) said. They are co-chairs of the president's Jobs and Competitiveness Council — 26 business leaders who are advising and supporting the president.
Small businesses with federal contracts should be paid promptly, which the president did say (and I say it's disgraceful that they aren't paid promptly now.)
Congress needs to "stop the political circus and do something to help," as the President said.
Kind of what Howard Schultz, CEO of Starbucks, has been saying in his full-page ads in The New York Times, "This is a time for citizenship, not partisanship. It is a time for action."
Amen.
President Obama made his speech to Republicans. He looked toward their side of the hall when he spoke. He cited Republican-sponsored precedents for the actions he is asking Congress to take. And, for the most part, they sat on their hands, even when he mentioned the GI Bill to which many of them or their fathers owe their college education.
Obama is right. Our economy needs jobs. Our small businesses need help and encouragement. Aviv is right, too. Nonprofits should be included in jobs-creation because they employ 10 percent of the private workforce.
Not only are nonprofits not included in the tax incentives to hire, they may be slammed by the funding for the measure. One item on that list: Reducing the deductions for charitable contributions by high-income earners. Will people be as generous with a 28% effective write-off as they are with a 35%? Maybe, maybe not. It's worrisome.
And Schultz is right. He's founded an organization called Upward Spiral 2011 to put pressure on Congress to grow up already and take bipartisan action.
I'm also intrigued that Steve Case, the co-founder of AOL and co-chair of the jobs council's working group on "high-growth" companies said much more was still to come. In an interview with FOX Business, Case said:
"We've put together a package that we really think is a road map for entrepreneurship. And we'll be meeting with the President in probably three or four weeks to outline (a) plan that really will focus on entrepreneurs. You know, maybe it will be the 'Startup America Act' or something like that. That really is doubling down on our nation's entrepreneurs."
I hope "high growth" includes non-technology companies and nonprofits that are scaling and ready to hire.
Let's not give ovations or withhold them based on who's talking. Let's listen. And let's support those small businesses and nonprofits. Let's double-down on entrepreneurs. I like that a lot.
What do you like about the American Jobs Act?