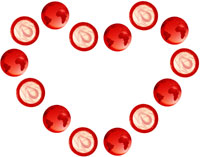 It's Valentine's Day: Are Your Condoms Socially Responsible?
back
Better sex for a better world: Now there's a Valentine's Day sentiment we can all support. The more you indulge, the better the world seems … and actually is, thanks to "Love Begins With L."
L.'s products are condoms, with styles and lubricants to rival every personal care section of your local drug store. The difference? An L. condom empowers African women so they can protect themselves from AIDS. For every condom sold, one is distributed at no charge to women in Africa who would otherwise not be able to protect themselves from AIDS, unwanted pregnancy, and STDs.
Safe sex as a human right.
Ya gotta love it!
Launching this month, L. illustrates that the mind of an entrepreneur is a weird and wonderful thing. L. was founded by a photojournalist, Talia Frenkel, who saw the ravages of AIDS, especially on women, through her camera lens. The statistics she cites are horrible:
5,000 new HIV transmissions every day … still!
Condoms, the most effective measure to prevent the spread of HIV, are unavailable to most people in the highest risk areas.
75 percent of sub-Saharan Africans are women and girls aged 15 to 24 and it is they who are getting infected.
Taking these facts into consideration, Frenkel did not just take more pictures or donate money. She founded L., whose purpose is to build a better condom that is user – male and female – friendly, sustainably produced, and for every condom purchased, one is donated to a developing country. But the donations are not random. L. partners with local nonprofits and grassroots women's groups to promote safe sex as the best sex.
As the L. website puts it: Better sex, better cause, better world. Better sex because the condom is designed with the users in mind; better cause because free condoms help break the cycle of HIV infection; better world because the product is sustainably produced using green technology. And L. does want you to be a happy customer. You can sign up for a montly subscription of 12 to 48 condoms at a time. Think how much that will empower the women of Africa!
L. is even making socially responsible sex trendy. It is sponsoring campus clubs and offering gel bracelets and T-shirts to encourage personal and socially responsible sex.
Sexual responsibility as a social enterprise. Yes, L. is a for-profit entity making and marketing a product but it is a triple-bottom line company, a social enterprise in every sense of the word, taking into account people and planet as well as profit.
So set up that romantic evening on the 14th. Light the candles, choose just the right music, arrange the flowers … and order your condoms.
Heart illustration: Janet Giampietro