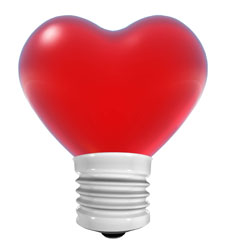 It's Not Too Late: Doing Good with Sex, Chocolate on Valentine's Day
back
This Valentine's day (and for that matter every other day of the year), indulge yourself and your lover, the right way.
Have safe sex and use a condom that does more. Better sex for a better world: A Valentine's Day wish for everyone. "Love Begins With L." is a socially responsible condom that has all the sensual options offered by brands sold at drug stores but adds green packaging, sustainable manufacturing and, most importantly, social action to stop AIDS. For every condom sold, one is distributed at no charge to women in Africa who would otherwise not be able to protect themselves from AIDS, unwanted pregnancy, and STDs.
L. founder Talia Frenkel says that in East Africa, women often sell sex for less than the market price of a single condom and the majority of girls have their first pregnancy in their teen years. The HIV rate is soaring and the young women's futures are lost. This year, L. is adding a program in East Africa that will give women the chance to earn an income while making contraception available in their communities.
So safe sex, social activism. What a nice two-fer!
Chocolate, my favorite subject. Chocolate provides a deliciously easy way to support social entrepreneurs. Sweet Riot, a woman-owned business dedicated to fair trade, fair treatment of employees, and supporting the work of nonprofits. As to the product — to die for! And packaged in such a way that you don't have to break any New Year's resolutions to indulge.
And then there's Madécasse, which sources and makes its chocolate where the value-added goes to the people who grow the beans. But, oh, the combinations: pink pepper and citrus or cinnamon and sakay.
So ask for something that makes you feel good all over.
If you liked this article, you may also like:
Social Entrepreneurs Make the Work Better with Coffe Grounds, Mushrooms and Bread
It's More Than Food On Your Plate: It's a Statement of Your Values