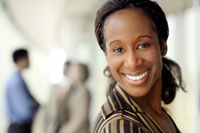 It's Not a College Degree That Counts, It's Your Experience
back
Wow! Having a college degree and an alumni network are not as important to successful entrepreneurs as everyone thought. What really counts is hard work – we knew that – experience, and your professional network. Also not so important: investor advice, alumni networks and government help.

Those are the findings of the Kauffman Foundation's latest research, The Anatomy of an Entrepreneur: Making of a Successful Entrepreneur. The report was released in November 2009, and was based on responses from 549 entrepreneurs from all regions and a wide range of industries whose businesses were beyond the start-up phase: They were successful.

Only 20 percent of those surveyed rated university education as extremely important, and only 4 percent ranked their alumni network as extremely important. So, while most entrepreneurs are college graduates, they don't depend on their contacts from school to get ahead. However they do rely on their professional networks – 22 percent rated them as extremely important.
"This finding was surprising," the report notes, "given the conventional wisdom that these networks are particularly valuable for business contacts. Clearly, entrepreneurs felt that professional networks were more important than alumni networks for the success of their businesses." While that was the most surprising result, other findings should be of interest to those thinking about becoming entrepreneurs or looking for ways to grow their businesses.

The average number of companies started by those surveyed was 2.3. In other words, these were people who had a track record, either as successful serial entrepreneurs or as entrepreneurs who tried, failed, and tried again until they got it right.
To me, those numbers say that knowing what not to do is as important as knowing what to do. And that leads me directly to peer support groups: Small business owners who can tell you their experiences – both successes and failures – so you don't have to go through it all yourself.
And it leads me to classes on entrepreneurship in which case studies of business failures and successes are dissected and discussed. Let's leave theory is to the academics.

And to colleagues and mentors who can brainstorm with me about the best way to deal with opportunities and challenges.

The good news for small business owners today is that these things, from peer support to mentors, can be accessed online whether you are in Des Moines or Manhattan. And they cost a lot less than that MBA.

Of no surprise at all are the challenges cited by the entrepreneurs: the amount of time and effort required to start and run a small business; lack of financing, and lack of prior experience in running a business.
What are the biggest challenges you have faced in starting a business? What has helped you the most? Who do you turn to for support?

Prior work or industry experience was extremely important to 58 percent

Lessons learned from previous failures was ranked extremely important by 40 percent

Lessons learned from previous successes was ranked extremely important by 39 percent

Management team was ranked extremely important by 35 percent