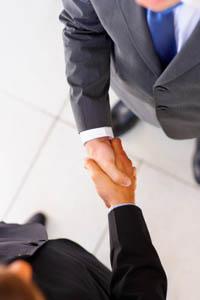 Integrity Without Social Responsibility Isn't Integrity
back
The man who symbolizes executive greed as the poster-boy for "integrity?" Yes, according to a columnist for The Harvard Business Review, who seems to accept former head of GE Jack Welch's definition of integrity: being true to who you are and not to think you know more than you do.
It's a very self-centered view of integrity, one reflected in Welch's record of cutting front-line jobs at GE while putting executive compensation – especially his own – on steroids. He was also head of GE when one of its units, Kidder, Peabody & Co., was embroiled in an insider-trading scandal. He is the poster-boy for cut-throat management incentives, egregious consumption, and lack of concern for others.
None of which exemplifies integrity in my book.
I do agree that integrity is a necessary quality of leadership but not in the Welch manner. While Welch is held up as an exemplar of leadership and has written many books on the subject, his core principles seem to be: Money is the only thing that counts, especially the money in my own pocket. And those are the principles to which he is true.
Integrity includes one's relationships with others, whether customers, employees or suppliers. People of integrity have principles that include fairness and honesty in their interactions with others.
Welch isn't that person.
Eileen Fisher is. Her business model is highly successful and stands on principles that go beyond her own bottom line to the well-being of employees. Her company was one of the first to support certification of working conditions in garment factories here and abroad. In a multi-year effort, the company has worked with factory owners as well as other clothing lines to improve the working conditions of pay here and in China, India and Peru.
From the outset, Fisher has stressed collaboration and the importance of the individual. The company's mission statement – the core values of the company – includes "social consciousness.
Oh, and in its first 25 years, the company went from being a $40,000 operation to a $273 million operation.
Adam Lowry and Eric Ryan, who founded Method Cleaning products in 2000, have integrity as part of their leadership skill-set. Method sells products that are non-toxic and environmentally friendly from creation to disposal. In 2006, the company was rated the 7th fastest growing private company in America by Inc. Employee well-being and giving back to the community are built into its business plan. Method is a B-Corporation, which makes its social and environment principles legally binding.
In 10 years, Method has become a $100 million company.
Leaders of these companies are true to their principles and their principles include fairness to everyone who helps make the company successful. Now that's integrity in my book.
How do you define "integrity?"