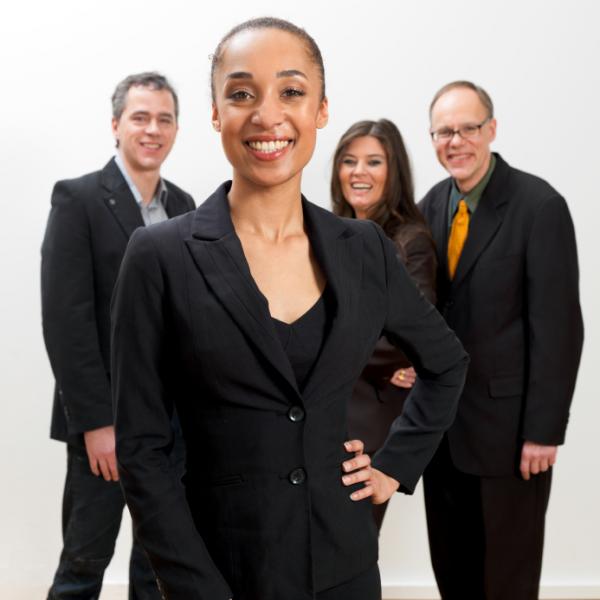 How Women Entrepreneurs Can Make Investors Sit Up And Listen
back
Do your knees knock, palms sweat or voice quiver when you're pitching for money? Some degree of nervousness is a good thing. It keeps you on your toes. But, nervousness can expose a confidence gap that will stand in the way of you getting the money your company needs to start or scale.
Here are nine ways to shore up your confidence so you get the money.
1.) Accentuate the positive
Women should use their natural gifts. No, not feminine wiles. Women are perceptive, listen, and have emotional intelligence. They know when someone isn't listening to them and can modify what they're saying on the fly, said Chris Camillo, a Dallas based angel investor, who is also involoved with three local business accelerators that provide guidance and mentorship for companies that want to grow. Use these talents to the maximum.
2.) Eliminate the negative
"Confidence can evaporate when the spotlight is on you," said Cheryl Buxton, Korn/Ferry International and a Springboard Entreprise presentation coach. Springboard provides leadership training, access to capital, and connections to accelerate the growth of women-led companies. An important part of the pitch is talking about your accomplishments. That's not easy for some women.
When women are nervous, they make statements sound like questions, she continued. Women need to be on guard against a rise in their voice at the end of a sentence when they're nervous.
Make sure to modulate your voice and use gestures to express and emphasize what you're saying. Buxton recommends walking in an arc across the room when presenting. Walk to people and then step back. Don't anchor yourself in one spot.
3.) Be fearless
Women approach pitching in a thoughtful way, which is a good thing. But sometimes they over-think the pitch, said Lori Hoberman, chair of the Emerging Companies / Venture Capital practice,Chadbourne & Parke. Even worse, they can be hesitant and apologetic about asking for money. Wrong attitude. The right attitude, according to Hoberman: The investor is lucky to be given the opportunity to invest in your deal.
When investors challenge what and how you're building your company, don't be afraid to push back, she said. You don't want to appear like a pushover. It's a sign of weakness, which will most likely knock you out of contention or hurt you big time when it comes to negotiating the terms of the final deal.
4.) Own your numbers
It's not just about knowing your revenue projections and the assumptions behind them. You need to know what drives your business model, said Yao Huang, venture capitalist, and founder of theHatchery, which holds forums to connect entrepreneurs and investors. She also produces theWomen Leadership Summit.
Women sometimes go astray by not talking about their business model. Tell the investor how you — and they — are going to make money and how much it will cost to do that. Making money is, after all, what this is all about. For example, investors want to know how much you'll spend to drive X amount of traffic to your site, what percent will purchase and what percent will purchase again. For Huang, being good at pitching isn't a gender issue, it's about confidence. She's heard pitches by college women who have bowled her over.
In general, men have bolder financial projections, said Camillo. They show more confidence and comfort when talking about numbers, he continued. You don't need to be good in math, but you do need to show you understand your own numbers, said Hoberman.
If you're not comfortable with financials, find someone who will help you prep. Notice I said prep not present. You need to own your numbers and present them yourself. Should follow up questions dive really deep into numbers, it's okay to have someone on your team answer those questions.
5.) De-personalize the pitch
There is nothing personal about the fundraising process, said Hoberman. Yes, you want to have chemistry with your investors, but the bottom line is that this is a business transaction, which will hopefully make a lot of money for both sides. You've got to get comfortable with rejection, too. You're going to get more nos than yeses. You need to separate yourself from the situation without divorcing yourself from your passion, she continued. Know that you can't please everyone nor should you. Ultimately, it's about finding the right investor(s) for your company.
6.) Answer questions without being defensive
It's about how you answer questions, said Huang. Women tend to be detailed oriented, which can be a good thing, but be careful not to ramble on, she continued. Instead communicate in a clear and concise manner.
Some investors will be deliberately combative during a pitch, said Huang. This can be a test to see how well you handle the heat. Never be defensive when answering investors' questions.
7.) Become an asking machine
"I think it is important to not only ask for money, but also ask for connections and advice in your pitch. There is an old saying that goes: 'ask for money if you want advice, and ask for advice if you want money.'" said Joy Schoffler, Principal of Leverage PR. She is a nationally recognized author and speaker on Crowdfunding.
Remember, you're building a relationship with someone. You need to get to know them as much as they need to get to know you. "Start each conversation asking about the other person. The more questions you ask of them, the more you will find out about the ways people can help you grow your business," said Schoffler. You may think you only have seconds of investors' time, but more than likely, they're expecting you to warm them up before you dive into your pitch. (And it's possible that as you get to know them, you may not want them as investors. This is a two-way street.)
8.) Get out there and practice
Don't just rehearse your pitch in your head or into a recorder. Get out there and practice your pitch, Huang said. You can't learn to handle questions by practicing alone or with your team. You need to practice in front of strangers who may ask questions you aren't ready for. Find places where you can do a mock session. The Hatchery provides that in NYC. The more you practice, the better you'll get.
9.) Show your passion
A good pitch makes your heart race. Show the fire in the belly and your passion to succeed. Investors are looking to be inspired. They want to see your spark, commitment, and energy, said Camillo. They also want to see confidence, trustworthiness, and likeability. Women are just as good as men at presenting, he said.
Yes, they are as good but sometimes they don't realize it. Take a look at your presentation preparation, content, and delivery. If they don't rock, make changes. This is definitely an area in which you are in control.
What are the first things you'll do to improve your pitch to investors?