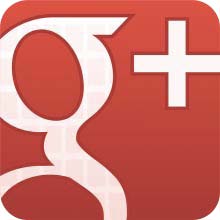 How to Use Google+ to Promote Your Nonprofit Organization
back
By Brittany Klontz
Though it may have taken a little while to find its sea legs, Google+ is now the second largest social networking site in the world. While Facebook and Twitter tend to draw more personal users, Google+ draws a crowd that likes to mix business and pleasure, engaging both with their friends and with their favorite brands. That means one thing for nonprofits looking to promote themselves and grow their organization: Google+ is a must-do.
But where to start on this powerful platform, which differs in so many ways from its predecessors? First, I recommend starting with this excellent G+ resource, which will take you through all of the essentials so you can hit the ground running. Here, too, are our 5 top suggestions for mastering the platform.
1. Make Your Storytelling Visual
Designed with the same look and flow of Pinterest, Google+ is an inherently visual platform. That's a good thing, as internet browsers tend to respond more to pages that are visually compelling anyway, rather than blocks of dense text. The banner for your profile page is especially important, as it expands widely when you scroll up. That means you'll want to make sure you've got a high resolution photo—perhaps one featuring your volunteers hard at work, or another engaging snapshot that captures the work you do. And while you're there, make sure to fully complete your profile, so that the people who view your page will have no doubt about what you do, and so that you're also optimized for search engines.
From there, create or curate content for your feed that likewise draws on a visual medium. Perhaps it's again photos of your volunteers in action, or maybe it's a full photo essay communicating the story of a recipient you've helped, one post at a time. Videos are always engaging, and can range from stories that stick closely to what you do to a fun and casual look inside your office so that supporters can meet your staff. Or, why not give the camera to your intern for a video diary with weekly updates?
Another great visual option is infographics, especially if you're struggling to capture a complex issue in prose form. Infographics allow you to seamlessly present and analyze data in a way that's fun and interesting for your viewers, and they'll look great in your feed. That's the perfect way to capture what you do for everyone who supports you or is thinking of doing so.
2. Target Your Message With Circles
Just because your supporters unite around your cause, doesn't mean they all share the same interests or are drawn to you for the same reason. That means they may not be interested in hearing the same stories from you, or at least not in the same way. Google Circles is a great way to separate your supporters into interest groups, so you can always provide them with content that relevant to their interests. You can determine where a supporter belongs by reading their profile page and checking out the kinds of content they post or share, and then categorize them accordingly. This also makes it really easy to drop in on different interest groups occasionally and jump into conversations occurring elsewhere on Google+ when you've got something good to add.
3. Hangout With Your Supporters
One of my personal favorite Google+ tools is Hangouts, a video chat tool that connects you with up to 15 followers at a time; or, if you go for the Hangouts on Air option, you can stream your Hangout live to YouTube so that even more supporters can watch, and share the resulting automatic archive on all of your social media feeds. Hangouts are a great way to connect directly with supporters, to rally volunteers and donors, and just to generally get feedback from the community and engage in conversation. You also might want to do a Hangout on Air when you're partnering with another nonprofit, so your supporters can see how well you collaborate and all that you do to contribute to your community.
It's also important to engage with your supporters, so they feel they're a welcome part of a passionate and articulate community. That means responding to all comments in a timely manner, and inviting followers to make them in the first place. Supporters will also really love when you ask them to contribute ideas for your next big initiative, or when you repost what they share (as long as it's relevant) and give them credit. In this way, you'll be making them a key part of your nonprofit, and they won't want to leave.
4. Master Your Hashtags
Google+, just like Twitter, allows users to use hashtags to designate search terms relevant to the content their posting. So, for example, if you're hosting a big fundraising event called, Tablets for Kids and you want that content to be easily findable, just add a hashtag to your posts that reads #tabletsforkids, and all of your supporters will be able to find you in no time. If enough followers are using that hashtag, you'll show up in the "What's Hot" section of Google+, and receive even more views from that feature.
Another great way to use hashtags is when you're riffing on a Google Trend—Google's measure of the most popular search terms on the web that day. If a trend is relevant to what your organization does, creating content around that trend will help you rise higher for a search you already know people are actively using, potentially bringing more new supporters to your doorstep.
5. Create Events
All in all, G+ is really made for collaboration. There are few features that make that so readily apparent as Google Events. With this tool, you can quickly create a time and location for your event, add a few photos and invite people, giving both them and you an easy way to add the event directly to your calendars. Whether you're holding a fundraising bake sale or your yearly gala, Google Events makes things much easier to create, promote and schedule.
The Takeaway
There's one key thread that runs throughout this post, whether we're discussing G+'s visuals, Hangouts, or Event management: tools. Google offers far more of them than any other social media site, meaning that Google+ is your single destination not just for promotion but for planning, engagement and community building as well. That should be welcome news for those in the nonprofit world, where time and funding are both limited resources. Good luck, and thank you for all of your good work.
Britt Klontz is a Digital Content Strategist who has a bit of an obsession with Google+. Say "hi" and give her a shout @Britt_Klontz, she's always up for having a conversation about digital marketing tactics and social networking in general.