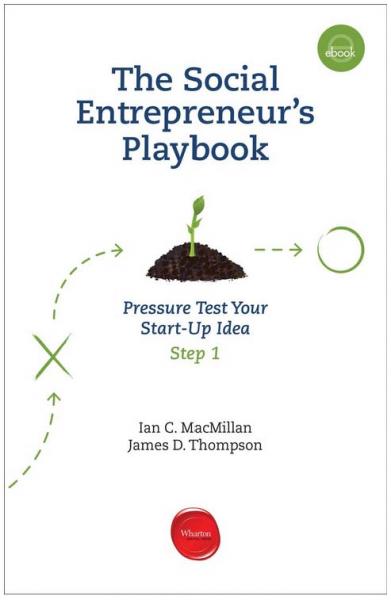 How to Test The Viability of Your Startup Social Enterprise
back
Does your social enterprise start-up have what it takes to make a difference and become self-sufficient?
Wharton professor Ian C. MacMillan and Dr. James D. Thompson, director of the Wharton Social Enterprise Program, provide aspiring social entrepreneurs with critical frameworks and tools to start their ventures with minimum risk and maximum potential for impact. Filled with inspiring stories, The Social Entrepreneur's Playbook is a must-read for entrepreneurs, philanthropists, foundations, and nonprofits interested in doing more with less.
Why WasThis Ebook Orginally Free?
MacMillan and Thompson have developed a proven method for testing, launching, and scaling a social enterprise, which systematically reduces uncertainty ahead of major resource commitments. Rather than rushing to publish a book about their three-phase method, the authors are distributing the first phase as a free ebook. They invited readers to join the Social Entrepreneur's Playbook Advisory Group by July 15, 2013, to help them shape the Fall 2013 expanded edition, which will cover all three phases of testing, launching, and scaling a social enterprise. Please check back for updates on the results of the survey feedback.
Please share the free ebook on Twitter, LinkedIn, Facebook, and via email, so other people who care about making a difference can share in this free resource.
Thank you for supporting social entrepreneurship!