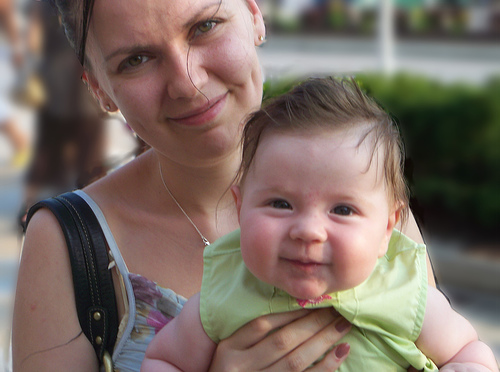 How To Raise Angel Financing When You're Pregnant Or A New Mother
back
Being pregnant or a new mother may be a tough time to raise money for your entrepreneurial venture, but Diana Lovett, Co-Founder Cissé Trading Company proves that with the right attitude and by targeting the right angels, it can be done.
Cissé (pronounced "see-say") is a new line of gourmet baking and hot cocoa mixes. It buys organic cocoa from small-production cocoa growers in the Dominican Republic at a fair price. You can find its products at more than 400 retail locations, including many Whole Foods, Fairway, Kings, and other supermarkets. Cissé's hot cocoa was chosen by Epicurious for its gift guide and won "Best New Product" at the Specialty Coffee Association show. I've tasted their cake and it's scrumptious.
Lovett was lucky; her pregnancy didn't show for 6 months so the question didn't come up. But then the bump became obvious and she quickly learned how to raise money while starting both a company and a family. Her six tips for those who are pregnant or have young children are:
1.) Have a plan.
Some investors straight up and asked her how she was going to care for an infant and start a company at same time, said Lovett. She realized it was better to incorporate the answer into her investor pitch and confront the issue head on. She acknowledged the pregnancy in the pitch then mitigated their concern by highlighting her plan for caring for a baby and a growing company at the same time.
Like Sheryl Sandberg, Facebook COO and author ofLean In: Women, Work, and the Will to Lead,Lovett is lucky. She has a supportive husband who shares in the child care in the evenings. They can also afford an au pair and a babysitter during the day. The au pair has the baby until 5pm then drops him at a babysitter which is up the street from Cissé's office. Lovett walks, runs takes the train home with the baby at 7pm. The office is 2 miles from her house, making drop-off and pick-up logistics much easier.
2.) Acknowledge how hard its going to be.
Nursing was particularly hard. Lovett doesn't always sit at a desk. She attends trade shows and meetings with investors. Pumping is no fun when you can't find a clean, private place to do it and you have to do it standing up. She did it a parking lot, warehouse and other unlikely places. Keep your eyes open and know that you'll have good days and bad days.
3.) Target investors who understand.
Lovett self-funded the launch of the business, but needed $500,000 to scale and get to profitability. She sought angel financing, but needed to find investors who would understand her business vision.
She presented at the Pipeline Fellowship Pitch Summit, among other places. Pipeline is an angel investing bootcamp for women interested in investing in women social entrepreneurs. At the end of the Pipeline training program, fellows invest as a group in one company.
4.) Constantly work the network.
Lovett met Heather Cabot, founder and publisher of The Well Mom, and adjunct professor at Columbia University Graduate School of Journalism. She is a former Yahoo spokesperson and media strategist as well as ABC News anchor/newscaster at the Pipeline Fellowship Pitch Summit. While the Pipeline group didn't chose to invest in Cissé, Lovett continued to cultivate relationships with the women she met there.
Cabot and other Pipeline Fellows decided to invest on her own in Cissé. It was very appealing to Cabot to be on Lovett's advisory board. It gave her another outlet for her media training and strategy skill set.
Remember, when pitching potential investors, if at first you don't succeed, try, try again.
5.) Have executive presence.
It wasn't just that Cabot liked Lovett's idea for an affordable, socially responsible gourmet baking and cocoa mix company, it was Lovett's passion and the belief that she would implement the vision. Lovett is driven and ambitious, a real go-getter, according to Cabot. Lovett conveyed competence and instilled confidence that she could start a new family and a scale her company at the same time.
As a novice angel, Cabot also liked that Cissé already had distribution and revenue; it was already on the road to success. Many angels invest in companies that are pre-launch.
6.) Never apologize for being a mother.
"You never would have known Lovett was a new mom," said Cabot. She was 100% focused on the tasks at hand when working.
"Women are complex human beings and can do multiple things," continued Cabot. It's about prioritizing and creating structure. It's about not pigeon-holing someone with labels. It's about putting the puzzle pieces together for your particular situation.
What techniques helped you to raise money for your business while being pregnant or a new mother?
Photo credit: Flickr ECohen