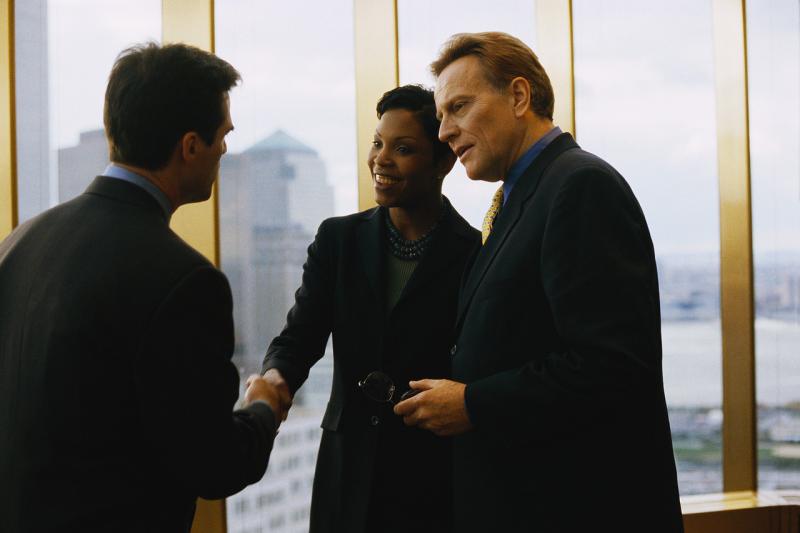 How to Network to Grow Your Business
back
If women entrepreneurs want to grow their businesses, they need to network. That means stop behaving like shy little girls: Put yourself out there, especially when the economy is slow.
To help you overcome your fear of getting out there and help you become a powerful networker, I've asked uber networkers for pointers.
1.) When it comes to networking, women need to get over their inhibitions.
Research shows that entrepreneurs with larger and more diverse networks grow their businesses bigger. Yet, even though women are great communicators and collaborators, we don't excel at building power networks. "Women tend to build deep and narrow networks and men wide and narrow ones," said Kelly Hoey, Connector, Catalyst and Co-Founder of Women Innovate Mobile (WIM) Accelerator. The weaker ties built by casting a wide networking net are the greatest source of new ideas, information, and opportunities.
"Women don't know how to build and use their business networks," said Jeanne M. Sullivan, General Partner, StarVest Partner, a venture capital firm. "Men do this by playing sports or grabbing a beer or meal. Women need to get over themselves. Women are hesitant to do this with people they don't know well."
"Whether you're just starting out, looking to raise capital or planning to expand into new markets, it's your network that can help you take your business to the next level," said Indrid Vanderveldt, CEO of VH2 Energy Investments and Green Girl Energy. Relationships Vanderveldt made at Dell Women's Entrepreneur Network (DWEN) inaugural event in Shanghai in 2010 enabled her to find a buyer for her alternative energy company and later become Dell's first entrepreneur in residence. I'm looking forward to attending the event this June in Istanbul and meeting Vanderveldt in person.
2.) Success is all about relationships.
Remember that old saying, "it's not what you know, but who you know." Jane P. Newton, Partner and Wealth Advisor at RegentAtlantic Capital, LLC, an investor advisers firm, couldn't agree more. "Just like the value of real estate depends on three main things – location, location, location – a woman's ability to succeed in business hinges on three main things – relationships, relationships, relationships."
Newton is also the organizer of Wall Street Women Forum, which brings together senior level women in the financial services industry to support their continued success. When it comes to succeeding, professional women trying to reach the highest levels of corporate America face similar challenges to female entrepreneurs.
3.) Build your network like you're tending a garden.
"I was once told I should nurture and grow my network like I would my garden – with tender-loving care," said Susan McPherson, SVP/Director of global marketing at Fenton, a PR firm where she creates visibility for the firm and runs its CSR practice.
Much like fertilizer helps flowers flourish, joining a business association can accelerate building your network, but you need to join the right group. In an HBR blog post, Athena Vongalis-Macrow, a researcher at Deakin University, Melbourne, Australia, outlines four things to look for in a professional networking group:
who is in the group (people who not only provide resources, information, and knowledge, but have a willingness to share)

how the network communicates (frequency and professionalism of interaction)

what's the substance of the communication (does the network offer support that enables you to overcome difficulties)

what level are the people in the group (are there movers and shakers who are part of the group)
No garden can grow without water. Being a resource to your network is like water to your garden. When building relationships, take an interest in and be a resource to the other person, said Hoey. You can only do this by listening. Cristina Mariani-May, Co-CEO of Banfi Vintners, a family winery, credits her success to her ability to build relationships by listening.
4.) Use social media to bring breadth and depth to your network.
"Social media are a great way to magnify your message, connect with an audience of like-minded thinkers, and build your network," said Vanderveldt.
"Honestly, some of my closest friends have been met over Twitter," said McPherson. It's how McPherson and I first met. Hoey likes the serendipity of Twitter. For her, Twitter is like attending a cocktail party. She never knows what interesting conversation she'll drop in on and become part of.
LinkedIn is a must. It's all about helping business people connect to other business people. In the beginning, Hoey emphasized building the number of her LinkedIn connections. Now she's more selective, emphasizing the quality of the people she is adding.
5.) Make sure men are a big part of your network.
It isn't an us-against-them thing. Men control the vast majority of leadership positions. "I need to be strategic in getting to know and making an impression with those who may be able to help me and open doors for me," said Newton. That includes men.
Hoey, McPherson, and Vanderveldt concur. We need men if we're going to make the connections to money, markets, vendors, and employees that will grow our businesses.
Many men are supportive of women entrepreneurs. I'll be writing about some of these men in the coming weeks.
6.) Persistence matters.
Whatever it is you want to accomplish, you don't need to do it alone. There's a community out there ready to provide support. But, your voice must be heard on a daily basis and its message must be clear… "Craft an elevator pitch that tells people what you do and what you need," said Hoey. "The more specific you can be in your ask, the more likely you are to get help."
"Follow-up, follow-up, follow-up!" said McPherson. "Don't do it to 'get ahead.' Do it because its fun and you'll learn so much about the world around you and yourself." In order to get what you need, you're going to have to give, perhaps even more than you get.
When it comes to networking, persistence is the name of the game. "The people who are doing the big things in the world (and who we all love learning from and want to work with) have a LOT going on," said Vanderveldt. "They have already built their networks. So if you want to meet them or connect with them, it requires a lot of hard work and it takes time."
Even if you don't cringe at the sound of the word "networking," these pointers from uber networkers will help you take your networking to another level. What first step will you take in building your network out?