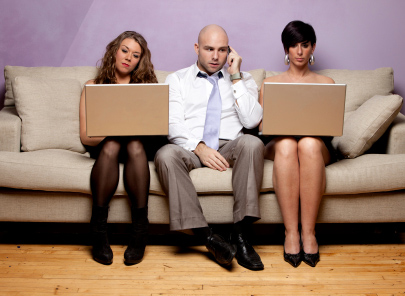 How Technology Offers New, Productive Business Models
back
Technology is changing the way women entrepreneurs run their businesses
Women use technology to solve problems, said Robin Raskin. She should know; her company, Living in Digital Times produces events and conferences highlighting how technology can solve the world's problems.
One women with a vision is differentiating her tutoring company from the competition by embracing technology. Katherine Cohen, CEO and founder of IvyWise, didn't start her company in 1998, as a technology-based company, but it is one now.
Many small businesses use technology to run the day-to-day functions of their businesses, such as banking and accounting; social media and online marketing; time management; travel and expense reporting. For Cohen, technology has become integral to the service she offers and is part of her business strategy.
IvyWise, provides admissions counseling, tutoring, and standardized test prep services to students in 33 countries, using a combination of Internet and telecommunication services.
Cohen noted that students were not getting into schools that matched their academic achievement with their personal ambition. Having expert advice for the student was the solution to the problem.
Thanks to technology, neither clients nor staff need be located near IvyWise headquarters in New York. Recent directors of admissions and application readers from highly selective colleges with expertise in getting into Ivy League schools and specialized programs are sourced throughout the country. Technology allows IvyWise to match students and counselors by need, expertise, and personality. In addition students benefit from the entire team's expertise.
Technology plays a critical role in everything IvyWise does, from how it sources leads, tracks them, and converts them into customers to how students are counseled. When students and counselors are not in the same location, the coaching sessions are done online using Skype. Wacom Bamboo Tablets and IPevo cameras allow students and counselors to share materials seamlessly, even those that are are being handwritten or highlighted during the session.
After the session, counselors use MacSpeech Scribe to record, transcribe, and clean up their notes. The process takes about half the time it did in the past. IvyWise has an online program that allows the student, counselor, and parents to follow the student's progress together, communicate, and collaborate 24/7. It also allows a counselor to consult and collaborate with other counselors. Everything is highly secure.
One last benefit: IvyWise has gone paperless, allowing them to save money on those cabinets they used to fill with student files.
Technology is changing the way women entrepreneurs manage their personal lives
Because women love to gather information, communicate, and collaborate, they are emerging as the power-users of today's most widespread and vital technologies, according to Raskin. The lines between work and home are blurred. It may be a chicken-and-egg thing. Because women use technology in their personal lives, they're bringing it into their business lives or because women use technology in their business lives, they're bringing it into their personal live. Maybe its both. Either way, women are now using some technologies more than men, including the Internet, mobile phones (voice and text), Skype, e-devices, GPS, and social networking. It allows time-poor women to juggle their busy personal and business lives.
Cohen uses technology to manage her personal live. She has a 2-year-old and a 6-year-old. She uses Google's online calendars to keep track of her business schedule and that of her family. Rather than waiting for a taxi, Cohen uses a transportation app, Uber, to set pickups for herself and the kids. Uber allows Cohen to track where her nanny is with the kids, making her less anxious about the kids.
How are you using technology to improve your business and personal life?