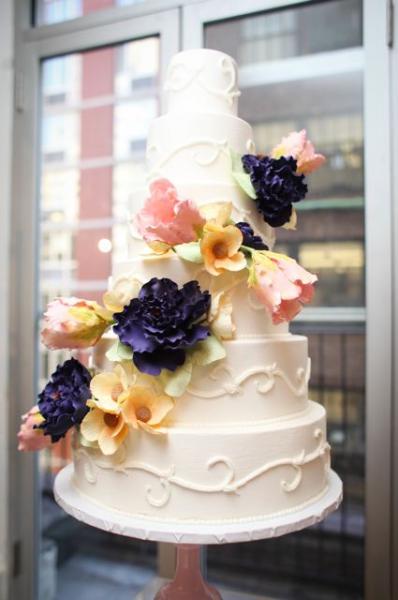 How Sweet It Is! Learning to Grow Your Business
back
Yes, I'm a nag but I'm also right. Continuing education for entrepreneurs is a good investment of public funds and a must-do for entrepreneurs. If you don't believe me, meet Amy Deguilio, founder of Sugar Flower Cake Shop.
In 2008, Deguilio, a mathematician by training, was making sugar flowers as a hobby, selling them to friends and family."I can give you the Fibonacci sequence for every flower," she says, but her business wasn't growing.
Her mathematical skills did not extend to pricing her product. She sold to bakers and to brides who were making their own wedding cakes, pricing the flowers according to what she thought people might pay, rather than what they cost her to make.
Now she employs 12 people part-time and is looking to grow even more. She credits the solid foundation her business has and its growth to her decision to attend the Kauffman FastTrac GrowthVenture program held at the SUNY Levin Institute and the NYC Business Solutions programs and services offered by the city of New York.
Your tax dollars at work to generate new taxes and new jobs by helping businesses grow.
"GrowthVentures changed my life and is the reason I am in business," Deguilio says. "I had never run a business before." The program taught her:
how you price products
how you figure out who your market is
what clients to go after
how to develop a business plan
how to evaluate opportunities
With knowledge from the class, Deguilio timed how long it took her to make a petal, to "paint" it, and to put it together. The cost analysis allowed her to price realistically and to justify that price — it takes five hours to make — when talking with customers. Her math still comes in handy when breaking down a flower into it's constituent parts and putting it back together, as well as in calculating the exact amount of butter cream frosting based on the area of a cake (accurate calculations mean less waste.) Math, beauty, design, and business: They do work together.
Her marketing focus shifted as well. With a clear idea of how much she needed to charge for each flower, she developed relationships with wedding planners and venues rather than with brides making their own cakes. She offers classes and has had 3,000 students in just eight months. The classes are a marketing tool, adding to word of mouth marketing as well as an appreciation for just how complicated the process is.
While she uses social media — particularly Pinterest, which is big the wedding business — she also does a lot of person-to-person marketing at trade shows and by developing relationships with big venues where the high-end weddings take place. Her products are, after all, high end themselves.
Her devotion to local, sustainable, and organic ingredients has given her another marketing edge. Honey from Manhattan rooftops and Hudson valley milk add to the appeal of her flowery cakes.
With the help of weekly meetings with her NYC Business Solutions mentor, she figured out a business plan and how to open her own, fully certified commercial kitchen, and get the needed approvals. The meetings meant she spent time each week thinking about how to run and grow her business rather than just operating her business. It also kept her on a schedule.
And she networks, something she never did before GrowthVentures. In the class, she learned the value of "tapping into the knowledge of other entrepreneurs who have already been in my shoes." She joined a network of wedding professionals and Business Networking International.
Both give her a place to say, "Here is what I am thinking. Is this a good idea?" She has objective input about her strengths, her weaknesses, and how to make her business better. She can share her experience and resources with others, which she enjoys.
Some of her ideas haven't been so good: Kosher products, retail stores were considered but shelved for the time being. They go into Deguilio's "Lessons Learned" file where she keeps the wisdom gleaned from what didn't work. It's a file she freely shares with others so they, too, can benefit from networking and from the resources, facilitators, and discussions GrowthVentures gave her.
She encourages all aspiring entrepreneurs and new business owners to tap into the resources of NYC Business Solutions and GrowVentures.
Deguilio is no longer a hobbyist. She is a business woman thinking ahead 3 or 5 years and leveraging both learning and networking to make those goals.
Photo: Chellise Michael Photography