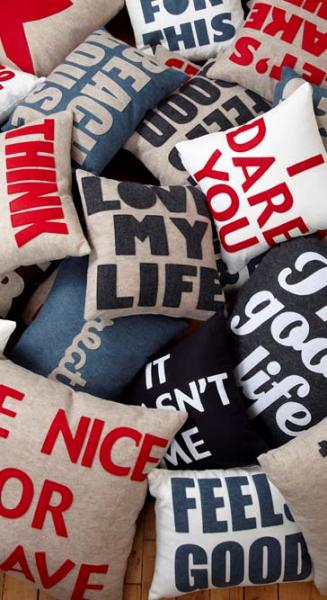 How Small Business Grow as Their Leaders Do
back
Alexandra Ferguson started her business on a whim: making decorative throw pillows with bold typography out of eco-friendly materials that are produced locally and sold online.
It wasn't scary or complicated. It didn't require a lot of planning. She had a day job to pay the bills and the time to do the work herself.
Ferguson attended trade shows and got some wholesale orders. Her pillows were talked up on House Beautiful, The New York Times, the Today Show, among other places.
Her business started to get complicated; she couldn't do all the work herself.
How was she going to meet the demand? Insourcing versus outsourcing is a dilemma many companies face. The solution may not be fixed; the right answer can change as your company grows. However, for Alexandra Ferguson, it isn't just an operational issue; it's a values issue. Made in New York is a fundamental belief of her company.
Outsourcing vs insourcing wasn't the only issue. Ferguson wanted to make the process efficient. In the beginning insourcing — having someone on staff — was best, but when that process became inefficient, she looked at outsourcing alternatives. Production outside the country was out the question — made locally is a value she would not relinquish. Fortunately, she was able to find a vendor who could do handcrafted artisan work with fast turn around and who was within easy driving distance from her office in Westchester, NY.
Entrepreneurs don't have to sort through these dilemmas by themselves. Ferguson recommends seeking outside advice. One way she did this was by taking a free Kauffman FastTrac GrowthVenture class provided by New York City Small Business Services at the Levin Institute. I co-facilitated the class with Stefan Doering, who is a business coach and local sustainability expert. Ferguson now works with him as her coach.
Oh, yeah. Ferguson did quit her day job about a year ago and now works full time on the business. Notice I said "on the business" and not "in the business." A business stays small when the founder fails to take the leap from doing the job to running the business. Ferguson has developed key performance indicators that will alert her if operational inefficiencies emerge. She has found that the more she plans, the more successful her company becomes.
Does your business need to be streamlined? How do you sort through issues to find a solutions?
Photo by Alyssa Kirsten