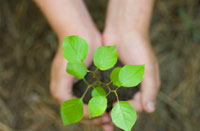 How do Small Businesses Grow? Experience and Money
back
"The U.S. economy looks to be in better shape, but a full recovery will only be achieved once small firms begin to prosper" and "We do want businesses that are viable and have good business plans and lots of experience backing them up to get loans."
Both those statements come from Ben Bernanke, chairman of the Federal Reserve as quoted in The Wall Street Journal.
I wholeheartedly agree but the Fed has been "encouraging" banks to make loans to small businesses for nearly two years.
There is evidence that older, bigger companies that have cash flow are getting loans. Perhaps now that banks are returning to good health they will loan to other credit worthy small business.
What other help do small businesses need?
Training entrepreneurs how to run a business well – the basics of cash flow and business plans – and access to the experience needed to back them up, the experience of mentors and peer groups.
As a facilitator in the New York City-sponsored Kauffman FastTrac program, I saw first-hand that experience can be shared and used collaboratively.
You want experienced small businesses to fire up the economy? Then support programs like FastTrac,10,000 Small Businesses and others that provide training and networking to entrepreneurs and small business owners.
Are small businesses getting the breaks they need to spur the economy? What does your small business need to survive or thrive?