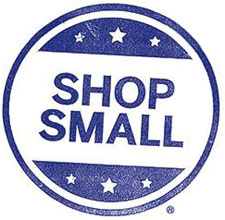 Give Small Businesses Something to be Thankful for the Saturday after Thanksgiving
back
Rebuilding after Hurricane Sandy will be tough for small businesses, those workhorses and job-generators of the economy but the Saturday after Thanksgiving is an opportunity for communities, shoppers, and businesses themselves to ratchet up the recovery.
It's a promotion that's worked before and may be even more important this year.
An 800% increase in foot traffic, sales up 126% in actual dollars spent? Not bad results for small businesses competing for holiday sales. How'd they do it?
Loree Shiraz and Tracey Harding, owners of two small businesses a continent apart, leveraged the promotional help offered by big corporations during Small Business Saturday, which takes place on the Saturday after Thanksgiving.
Merchants tie in their own promotions — coupons, prizes, freebies — with the support offered by big corporations, such as American Express, Facebook, Google, Twitter and GoSocial, all of which offer tools, discounts, and marketing materials to help businesses boost sales.
Harding talked up the $25 credit given to American Express card holders who spend at least $25 on November 24th at a qualifying small business, after registrating their cards on Small Business Saturday website.
For weeks ahead of time, Harding told customers at Kidz Enterprise Toys about "free money," and "free toys." She also reminded people that money spent in a locally owned, small business stays in the community, creates jobs, and boosts the local economy.
Harding has an extra sales challenge: Her store is just down the road from the New Hampshire border; in New Hampshire, there is no sales tax. "I don't talk politics," she said, "but I do remind them where the tax money is going." As the owner of a toy store, she emphasizes schools.
Her store had a line out the door all day and sales were up 126%.
Small Business Saturday is a shopping event that's grown rapidly and become affixed to the calendar in a very short time; this is only its third year but it has taken advantage of the social media megaphone and the comfort people feel when they shop locally and small. Those mob scenes you have to fight through outside the Big Box stores on Black Friday are one of the day's selling points.
While American Express and others are helping promote the day, the real leverage comes from communities that care about their local businesses. What Harding is saying is what drives the day: Local businesses are good for your community.
Shirazi, owner of Original Paw Pleasers in San Diego, CA did a bit of her own marketing magic, handing out postcards promoting Small Business Saturday in the weeks before the event but she credits community spirit with the 800% increase in sales her store enjoyed last year. Elected officials turned out to promote the event, guitar players enticed shoppers to the Main Street area, and kids were on hand to help carry packages.
"It was a whole community event," Shirazi said. "It may not have been successful without everyone working together."
A caring community seems to be the key. Eighty-one percent of business owners who participated in 2011 said that Small Business Saturday would be more effective if their communities came together and hosted events, according to a report by the National Federation of Independent Businesses.
The official Small Business Saturday website offers signage, online banners, and templates for social media campaigns to rally communities around their local small businesses. For businesses, it's a great opportunity. As Shirazi said, "There are no gimmicks, no cost. It's worth taking a shot. We were here anyway."
So rally 'round the local businesses, people. If you're shopping anyway, why not visit your local store, help the recovery, and keep the community going?